Are you searching for the best Best Hotel WordPress Themes with Fantastic Designs?
Creating a website for your hotel does not have to be complicated. WordPress hotel themes make it simple to launch your hotel website, allowing more guests to make reservations online.
In this post will share some of the best hotel WordPress themes to help you choose the excellent design for your hotel booking website.
How To Building a Hotel Booking Website with WordPress
First, you must ensure that you use the proper internet platform to develop your hotel booking website. The best web hosting provides you with complete control and flexibility.
After that, you'll need to sign up for Web Hosting. Hosting is required for all websites to keep their website files. You will also require a Domain Name. The domain name is the web URL for your sites, such as probloggingidea.com.
As web hosting, we recommend BlueHost. They are one of the world's leading hosting providers and an official WordPress hosting partner. Bluehost provides a free domain name and free SSL certificate.
After you've signed up for hosting, you should read our guide on how to create a Blog or website.
Now, let's look at some of the perfect WordPress hotel themes.
List Of the Best Hotel WordPress Themes:

Astra is a fantastic WordPress theme, and it includes demo websites for various business niches such as hotels and booking websites.
You can start your hotel website with Astra and add all the features you need, such as online booking, image galleries, amenities, and more.
The Astra theme is lightweight, which assists in the speed of your website. The WordPress customizer with live preview allows you to modify the theme's colors, fonts, and background.
Astra is also optimized for WordPress SEO (search engine optimization). That implies your website should perform well in search engines such as Google, Yahoo, Bing, etc.
Visit - Astra Theme Website
Bellevue
Bellevue is a theme of a good-looking, modern, extremely functional, and efficient WordPress hotel booking website.
Over time, the tool has been developed utilizing the most advanced web development technology available.
It's a set of reliable tools that make website creation and development straightforward.
Bellevue has a fully working availability checking calendar that updates in real-time. Your guests will be able to confirm their schedules easily.
It offers a flexible payment tool driven by the WooCommerce eCommerce plugin, as well as ready-to-go online store pages to immediately promote your packages or services, items, and wares to your vast online audience.
Visit - Bellevue Website
LeadEngine
LeadEngine is a universal WordPress theme that is clean, clever, and responsive. It is a lightning-fast and user-friendly website-creation tool suitable for users of all skill levels.
Many demonstrations, template pages, and blocks give coding-free functionality and selection. Advanced customization options allow you to brand your website in minutes.
LeadEngine is perfect for hotel and motel websites. The Hotel demo includes everything you need to get started.
Minimalist portfolios are a stylish way to showcase your rooms, packages, and options. Beautiful Revolution Sliders guide your clients to the desired destination.
LeadEngine is a strong search-engine performance because of its powerful SEO.
Also, read GeneratePress Theme Review
Peak performance is ensured via efficient coding under all traffic circumstances. With LeadEngine, you can take your Hotel company website to the next level!
Visit - LeadEngine Website
Divi Theme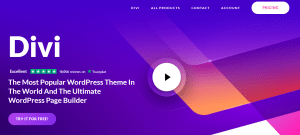 Divi is a powerful WordPress all-purpose theme that can build any website. It has a powerful and easy-to-use page builder for customizing the build of your website.
Parallax and adjustable layouts, custom backgrounds, image filters, animations, Google Fonts, endless color possibilities, and more are among the theme's features.
An eCommerce-friendly article makes it simple to put up a hotel website with online room booking.
Divi is also SEO-friendly, making it easier for Google and other search engines to find your hotel website. Third-party add-ons can be installed to increase its capabilities even further.
Visit - Divi Website
Hotel Zante

There is no better method to spread the word about your accommodation company than via Hotel Zante.
This is one of the most powerful Hotel WordPress themes, with a fantastic design that will treat all your potential clients well.
Starting with four demonstrations, you have a tremendous collection of solutions that will save you a lot of time and work. But the good times don't stop there.
You can modify the style and even create your designs by dragging and dropping.
In terms of bookings, Hotel Zante includes the Eagle Booking plugin, which completely automates the process. Hotel Zante will help you stand out from the crowd.
Visit - Hotel Zante Theme
Sailing
Sailing is a completely responsive and feature-rich WordPress theme that includes everything you need to operate a high-performance, well-designed hotel website.
A top-notch and seamless online booking system is arguably the most necessary component for running a hotel. As a result, Sailing includes its booking plugin.
This ThimPress TP Hotel Booking plugin enables a versatile and user-friendly way to handle your reservations, rooms, hotel kinds, room capacity, coupons, payments, and more.
The reporting module, which allows you to export several data types to improve your operations, is one of the plugin's most powerful features.
The sleek look of Sailing may be rapidly changed using its drag-and-drop interface. You may easily modify layouts, colors, fonts, and other design elements to build aesthetically attractive websites.
The optional parallax scrolling effect adds dimension to a more upscale webpage. Social sharing features and search engine optimization might also help you stand out from the crowd.
Visit - Sailing Theme
Kallyas
Everyone has an individual concept of what their ideal holiday consists of. Holidays, for the most part, should be about luxury and comfort. If you need to express this to visitors to your hotel website, Kallyas may be the theme for you.
This theme includes two pre-built hotel samples that you can import with a single click. In both situations, the design is rich. You'll find places to highlight your resort's highlights, what sorts of accommodations you provide, post social media photos, and more.
Kallyas provides nearly everything you need to operate a hotel online in terms of functionality. The theme includes a premium reservation plugin and allows you to have social network profiles on your website to display your hotel's most OK photos.
Furthermore, Kallyas comes with the Zion custom page builder, giving you complete control over every element of your website.
Also, read Newspaper WordPress Theme Review: A Multipurpose Theme
Overall, if you own a high-end hotel, resort, or rental property, Kallyas provides an all-in-one solution for attractively showcasing your most excellent qualities. It's a terrific alternative, in our opinion, and it's worth a look!
Visit - Kallyas Theme
Essence Pro
Essence Pro is a StudioPress WordPress theme created primarily for hotel, housing, and travel websites. It has a full-width background picture, a search bar, a navigation menu, and a subscription box.
It allows you to show meaningful content on the homepage in a grid structure.
It is powerful since it is developed on top of the Genesis Framework. Essence Pro is highly customizable, has a responsive layout, and is fully WooCommerce compatible to market your hotel services.
Visit - Essence Pro Theme
Milenia
Milenia is the best hotel WordPress theme with a stylish and elegant site design. With Milenia, you will undoubtedly blow everyone's socks off when they visit your website.
The tool comes with five ready-made demos that you may use right away. Of course, it is highly recommended that you modify the sample of choice and make it your own. You do not need any prior experience to pull it off.
When you check the Milenia bundle, you will discover many features. Real-time hotel availability searches, seasonal pricing, weekly and monthly rates, flexible booking conditions, and discount coupons are all available.
Visit - Milenia Theme
We hope this article helped you find the Best Hotel WordPress Themes with Fantastic Designs. You may also want to check out our guide on the Best Web Hosting Providers.
If you liked this article, then please follow us on Twitter and Instagram.