Email marketing has the power to help you generate thousands of leads with little effort and almost no start-up costs. That's why it's such an essential part of affiliate marketing and any other business that wants to succeed online. 
However, before you get started, there are several things you need to know about how email marketing works, including which tools can make your job easier. 
This article will cover 6 of the best email marketing tools for affiliate marketing on the market and how they can help you promote your affiliate products more effectively.
List Of Best Email Marketing Tools For Affiliate Marketing
Choose reputable email marketing software to avoid search engine penalties and email restrictions.
Here are some email marketing tools designed exclusively for affiliate marketing to promote their affiliate products and services:
GetResponse is one of the Best Email Marketing Tools For Affiliate Marketing that aims to facilitate and automate your email marketing efforts. 
It has built-in lead-generating forms and automation to assist you in engaging and enabling new subscribers. The platform is perfect for affiliate marketers, entrepreneurs, digital marketers, and small and medium-sized enterprises searching for a reliable email marketing solution.
GetResponse mentions that it allows you to join up for affiliate programs and promote items to your audience. Besides that, GetResponse also interacts with affiliate tracking software, allowing you to observe how your email campaigns convert into additional sales. With its autoresponder function and drip campaigns, you can promote your affiliate product and services to your subscribers.
When it comes to autoresponders, GetResponse allows you to send automatic sequences based on time or website visitors' behavior. Also, read our GetResponse review article.
GetResponse Key Features:
Email builder with drag-and-drop functionality

Configure allocation based on subscription time, with delays, or at certain hours.

Various autoresponder email templates

View your email campaigns as a list and on a calendar.

Send relevant upsell offers via autoresponder emails based on previous sales.

Campaign and extremely powerful autoresponder analytics
EngageBay is a highly affordable email marketing software for small businesses and startups with a plethora of tools to facilitate affiliate marketing. With tools like lead capture forms, contact management, and multistep automation, EngageBay aims to make the process as smooth and efficient as possible. 
You also get tools like email broadcasts, drip campaigns, audience tracking, and scoring, a centralized customer database, in-CRM telephony, and so much more. Autoresponders and email personalization remove the need for manual email creation – paving the way for streamlined affiliate marketing. 
EngageBay Key Features:
Multistep workflow automation to improve productivity and efficiency

Contact management for streamlined lead acquisition and nurturing

Predictive lead scoring for advanced audience segmentation

Drag-and-drop landing page and email form builder

Autoresponders for automated email messages

Traffic analytics for deeper insights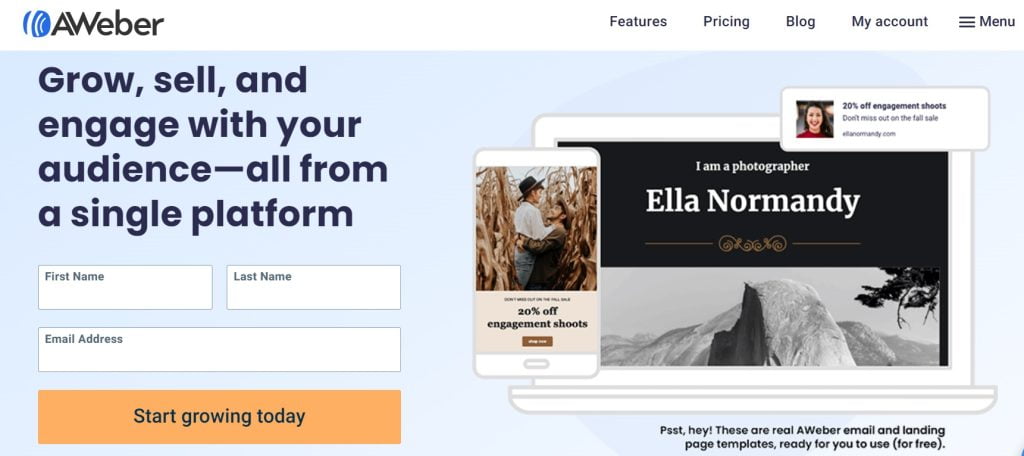 AWeber is one of the oldest email marketing tools, with many features and a great free plan. Landing pages, signup forms, web alerts, and automated email sequences are part of this platform. With Aweber, you can quickly segment your list depending on subscriber activity.
Some of the most popular affiliate marketing networks work well with Aweber, and Clickbank and JVZoo are examples of such sites. This lets you advertise your favorite affiliate marketing products and services with every Aweber campaign. You can use built-in email templates and sophisticated reports to track the effectiveness of your campaigns. Also, read our Aweber review article.
Aweber Key Features:
Send RSS feeds of your blog entries as automatic newsletters.

Design your email campaigns using a drag-and-drop builder.

To structure your list, use tags and segments.

Pre-built campaign templates eliminate the need to start from scratch.

In-house deliverability staff ensures that your campaigns get into your subscribers' inboxes.
#4 – ConvertKit
ConvertKit is an email marketing tool designed specifically for affiliate marketers and content creators. It includes landing pages and signup forms and email marketing automation, and the ability to sell digital things such as courses and services.
ConvertKit supports some forms of affiliate marketing. Specifically, you can advertise affiliate items and include affiliate links in your campaigns as long as you operate a business, and affiliate marketing is not your only source of revenue. The company also highlights the need for an appropriate label and disclosure of affiliate connections and items in your marketing.
ConvertKit Key Features:
Set off automated reactions depending on subscriber activity and interaction.

Create visual automation based on various rules.

With reporting, you can keep track of your campaigns and track the open and click-through rates.

Send campaigns again to subscribers who did not open them the first time.
#5 – Sendlane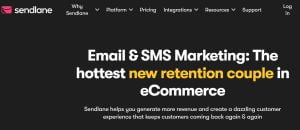 Sendlane is an email marketing tool, and it's suitable for affiliate marketers, online retailers and sellers. It's a system that includes email marketing and SMS marketing capabilities, and it's focused on increasing client retention, growing revenue, and automating customer experiences.
This solution also interacts with various third-party systems, allowing you to integrate the platform with your existing technology stack.
Sendlane interfaces with Clickbank and JVZoo for affiliate marketing, making it simple to advertise a wide range of affiliate items. You may program automatic emails to be delivered to subscribers based on their prior email activity and participation. You can also use their clever pop-ups on your website to attract additional signups and boost your affiliate marketing earning potential.
Sendlane Key Features:
Create your autoresponders or use one of their ready-made themes.

You may use a drag-and-drop email builder to create conversion-optimized email campaigns.

Because Sendlane controls its complete email infrastructure, it has excellent deliverability.

Optimize your send timings to guarantee that your autoresponders containing affiliate links are delivered when your subscribers are most likely to interact with your emails.

Segment your list and split-test your autoresponder campaigns to improve conversions.
#6 – SendX
SendX bills itself as an economical and user-friendly email marketing tool. To help you expand your business, this platform allows you to send limitless campaigns, create your email list using forms, and automate advanced email marketing sequences.
SendX claims to be the email marketing platform for affiliate marketers, one of several sectors featured on their website. This email marketing tool also includes a beginner's guide on affiliate marketing to assist you in maximizing your commissions. 
To increase your list, you may use popup and inline forms and landing pages designed to help you grab more subscribers. You may also quickly organize campaigns to promote your affiliate marketing products and services, track campaign effectiveness, and even develop automatic sequences based on specific affiliate promotions.
SendX Key Features:
Send emails based on user activity.

Enhance your email and autoresponder campaigns with over 500,000 stock images.

Resend campaigns using a modified subject line to subscribers who did not open your campaign the first time.

With extensive statistics and performance reports, you can keep track of the success of your campaign.
#7 – EmailOctopus
EmailOctopus is a simple but effective solution for growing your email list, nurturing subscribers, and sending targeted email campaigns that drive sales. The platform includes a drag-and-drop email builder, list segmentation, signup forms, and landing pages.
EmailOctopus states that the company does not restrict any sector from using its platform but that some industries will be scrutinized more than others when it comes to affiliate marketing. 
Affiliate marketing is included. In light of this, if you want to use EmailOctopus for affiliate marketing, make sure you create these campaigns tasteful rather than spamming one that might result in your account being blocked.
EmailOctopus Key Features:
With your campaigns, you may use an intuitive email builder and use built-in templates or import HTML email templates.

Drip campaigns are a simple way to keep your audience engaged with your content.

List segmentation allows for more focused promotions.

Comprehensive statistics for each campaign you send
Final Words On Best Email Marketing Tools For Affiliate Marketing
Earning money with affiliate marketing is a bearable type of income that is relatively simple to get started with.
However, keep in mind that to get the most results from your affiliate marketing efforts, you must have an email list engaged with your campaigns. 
It's just as necessary to work on creating genuine relationships with your subscribers as it is on keeping your subscribers interested and ensuring they continue to receive your emails. 
Not every email you send should be promotional. Consider reserving the emails with affiliate links until you've built trust between your company and your readers.
We hope this article helped you find the Best Email Marketing Tools For Affiliate Marketing? You may also want to check out our guide on the Best Email Marketing Software For Small Business.