Best WordPress Backup Plugins: The best thing you can do for the security of your website is to create regular WordPress backups. Backups provide peace of mind and save you in disaster circumstances, such as when your website is attacked, or you mistakenly lock yourself out.
There are various free and paid best WordPress backup plugins available, and most of them are pretty simple to use. We'll go through the top 5 best WordPress backup plugins in this post.
Important: While many WordPress hosting companies provide limited backup services, we always advise our customers not to depend on them. Because it's your responsibility to take daily backups of your website.
If you aren't backing up your WordPress website, you should choose one of these top 5 best WordPress backup plugins and get started right away.
Choosing The Best WordPress Backup Plugin:
WordPress has several backup plugins, but the good ones are easy to detect if you know what to look for.
A decent backup plugin makes it simple to backup your site and makes it simple to restore it if the need arises.
Apart from that, here's what we look for in the best WordPress backup plugins:
Backup your whole website: Include your website files and database in your backup copy. You would think this is self-evident—however, several plugins just backup your files and not your database. As a result, you must ensure that a complete backup of all your website data is taken.
Incremental backups: Backing up your website might place a heavy load on your server, and this might cause your website to slow down while the procedure is running. On the other hand, if the plugin uses incremental technology, it will break down your website into little bits and duplicate your site without placing any strain on your server.
Secure storage: All of your website's data is saved in a backup, including critical information. So, just like you would protect your website, you should protect your backup by encrypting it and storing it in secure locations. Look for plugins that provide auto encryption as well as numerous storage places.
Offsite storage: Some plugins and hosting provide backups, but the copy is stored on the same server as your website. As a result, if your server fails, you lose both your website and its backup. It is safest to have a copy offsite on another server or local storage.
Scheduled backups: If you wish to preserve recent changes regularly, the easiest option is to schedule backups to run on their own. This suggests that new backups will be taken at regular intervals.
Real-Time backups: You will require real-time backups if you manage an online store. This ensures that every new order placed is instantly saved, ensuring that no transaction information is lost. Instead of doing a whole backup each time, the best WordPress backup plugins will backup only the change and add it to the backup copy.
Responsive help: When it comes to backups, you'll almost always need to contact the plugin's help team to resolve any difficulties you may have with the setup, backup, and restoration procedures. Ascertain that a dependable support staff supports your plugin.
With these considerations in mind, let's take a look at the top WordPress backup plugins on the market.
List Of The Best WordPress Backup Plugins
BlogVault – Most Reliable WordPress Backup Plugin
BlogVault quickly distinguishes itself from the rest of the WordPress backup plugins. We discovered that there is no other option as dependable as Blogvault after evaluating all of the plugins.
It is also simple to use and fast, with features like as real-time automated WordPress backups, rapid restoration, and 90-day backups. We put the plugin through its paces to see how effective it was. And we have to declare that Blogvault is currently the gold standard in WordPress backups.
What you get:
Backups that are automatically scheduled
Backups that are incremental
Offsite storage is completely free.
Quick restoration
Testing of backups
Dashboard on its own
Simple migration
Cloud service integration
Simple to use
There is no additional burden on the website.
Unique backups
Backup in real-time
Pros:
WordPress backups that are both effective and dependable
Storage at a distance
One-click automated restore for WooCommerce websites in real-time
Dashboard on its own
Even when the site is offline, it restores
Monitoring and alarms for multi-site support
Cons:
There are no incomplete backups.
Price: $89/ year
We tried BlogVault on small, medium, and big WordPress blogs and discovered that it performed well on all three. Even with a massive site of roughly 15 GB, the website sync took less than two minutes.
One of the essential features of BlogVault is that it provides offsite backup storage for 90 days, which can be extended to 365 days for WooCommerce websites.
This is necessary because you want to ensure that your backups are stored on a different server if the website server fails and both the website and its backup are lost.
Furthermore, a year's worth of backups might take up a lot of space, and if you select to store them in the cloud or somewhere else, you may pay additional charges. BlogVault will store your backups on remote servers at no extra price.
When you routinely backup your WordPress website, it might cause speed concerns. Blogvault does not affect your website's speed because it does incremental backups after the initial one. You can enjoy Blogvault for free by signing up for a 7-day trial.
Jetpack Backup (previously VaultPress)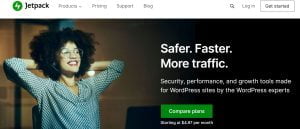 Jetpack provides a variety of capabilities to WordPress site owners, and one of them is a powerful backup solution initially sold under the brand VaultPress.
Automattic, the same company that runs WordPress.com, provides this set of tools. Previously, you would have had to purchase all Jetpack features, even some you don't use, but Backups are now available as a single package.
Jetpack Backup will back up your complete site to their servers daily. Backups are incremental, which means they place less strain on your server.
The one-click restoration process is simple, and their support team is always there if you need assistance. Having someone who is only an email away who can assist me with restoring my site is a significant benefit.
Features:
Daily backups are performed automatically (real-time is available on higher plans)
You don't need to connect to a third-party site like Dropbox because storage is provided.
Restore your site with a single click from your dashboard.
Customer support is available to assist you if you require it.
Money-back guarantees for 30 days.
Jetpack Backup costs $8 per month when paid annually.
UpdraftPlus
UpdraftPlus's free edition is the best WordPress backup plugins with over a million active installs. With such a large user base, you can be sure it's been tried and tested in various settings.
The free version lets you backup your WordPress files and database, restore your site from a backup, and transfer your backup to remote storage.
You can select to conduct backups manually or schedule them.
The premium version comes with many added features to keep your site secure. This features a site duplicator and migrator, automated backups before plugin, theme, and WordPress upgrades, additional backup storage locations, and much more.
You have the option of purchasing add-ons separately or as a package.
Features:
Perform manual backups or schedule them ahead of time.
Make a backup of your complete WordPress website.
Configure numerous automatic backups with various schedules.
Backup your data to Amazon S3, Google Drive, Rackspace, or Dropbox. The premium version adds other places such as Microsoft OneDrive, WebDAV, etc.
Restore your website using backups created by other plugins (paid feature)
The premium edition includes customer assistance.
Price: Free, with premium options beginning at $50.40 for up to two sites.
BackupBuddy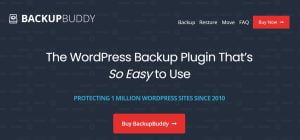 BackupBuddy has been protecting half a million WordPress websites since early 2010.
It allows you to backup your complete website from your WordPress dashboard with only a few clicks. You can schedule automatic backups, transfer backup data to a secure remote location, and rapidly recover your information.
One of the unique features offered by BackupBuddy is the ability to restore and optimize your database. With the purchase of any plugin, you will receive 1 GB of free Stash Live storage (5GB on the Gold plan).
Stash Live regularly backs up your database updates, such as new or edited posts, putting your mind at peace. Stash Live works flawlessly even if your site is hosted on a low-cost shared hosting service.
Key features:
Back up your WordPress files and database.
Backup material may be customized, and automatic backups can be scheduled.
Simple restoration procedure
Secure backup storage and download options are available offsite.
The characteristic of real-time backup
WordPress transfer to a different server, domain, or URL
Cloning and pre-production
Price: A single site license and 1GB of Stash storage space start at $80 per year.
WP Time Capsule
WP Time Capsule is an excellent choice if you want to back up simply your current files rather than your complete WordPress site. You'll be able to backup your website to your preferred cloud storage service, such as Google Drive, Dropbox, or Amazon S3.
The critical advantage of WP Time Capsule is that it uses far fewer server resources because it does not compress or zip your backup files.
To begin using this plugin, create an account with WP Time Capsule, install the free plugin, and then link the cloud app with your plugin to send your WordPress backup files to your selected location. After completing a full backup, you may plan a backup of your recently updated files.
Key features:
Backups are made automatically when you make changes
Set it and forget it installation procedure
Backups that are incremental and do not load your website
Backups in real-time
One-click restoration
Your option of offsite storage
Changes should be tested on the stand site.
Price: You may begin for free for the first 30 days. Paid plans start at $49 per year and go up from there. Payments are made in one-time increments starting at $149.
Do you have any questions on the Best WordPress Backup Plugins? Let's mention them in the comments section below! Follow Us On – Instagram