Real estate can be a challenging game to play. You understand the importance of standing out in a highly competitive sector. But how exactly? The basic answers are efficiency, industry understanding, and a good marketing strategy.
Engaging your online audience is essential for differentiating yourself and attracting new customers. The more attention your email marketing acquires, the more customers will remember you when it comes time for them or someone they know to purchase or sell the property.
That means you'll need the Best Email Marketing Software For Real Estate available to offer you all of the tools you'll need to succeed in the real estate business. 
For this, I've prepared a list of 8 Best Email Marketing Software For Real Estate that may assist you in sending professional, customized emails that can help you succeed.
Why Should You Use Email Marketing For Real Estate?
Buying or renting a home is a unique investment that requires careful thinking and analysis before making a choice. Even if you make a wine fountain in your garden and publicize it on social media, no one will purchase it.
Because so many prospects, particularly millennials, want to be addressed by email, sending excellent real estate emails will help you close more deals, even especially during downtimes.
You only have a limited number of hours to meet individuals, tour properties, create proposals, and communicate with possible customers. Not to mention the fact that you have a life to live! So, how do you keep growing?
In addition to these advantages, when you combine a successful email marketing campaign with other effective real estate marketing techniques, you may significantly increase your online marketing, traffic, and leads.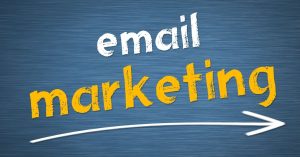 List Of The Best Email Marketing Software For Real Estate

ActiveCampaign is more expensive than other services, with plans beginning at $15 per month for 500 contacts ($9 per month if paid annually). Still, it's my top recommendation for email marketing.
It has the fundamental capabilities for real estate email marketing, but it also has a plethora of alternatives that provide you with more freedom and control.
For example, its automated workflow is simple to use and comprehensive. You may send follow-up emails to customers who view certain property listings by creating your triggers for automated messaging, or you might market properties to contacts who visited similar links.
In-depth analytics allow you to evaluate and learn from the statistics of your campaign. ActiveCampaign's reports track transactions, site traffic, open rates, and other metrics. These statistics show you what's working and what isn't, so you'll know which emails are genuinely hitting home with your customers.
You may further tailor your marketing by segmenting your mailing list with tags that you create. This is beneficial in real estate since it categorizes your connections by area, family size, budget, renters, purchasers, and other criteria.
How can this assist in attracting customers? It allows you to deliver customers listings that are more likely to pique their attention. For example, you may market California rental apartments to people on your list who are part of a small family and want to rent.
You might then send a new email to folks with larger households seeking to buy properties in the same region.
ActiveCampaign Features
Mobile-friendly emails. By default, all emails created in the editor are mobile-friendly, and this is critical since many people use their phones to access their email.

125+ eye-catching templates There are themes for product listings, blog entries, announcements, etc. They can all display high-resolution photos and full-fledged backdrops.

Email customization. To make your emails feel more personal, include the names and locations of your customers.

Strong automation. Set up automatic messages using various trigger formulas, including your unique variables.
Visit - ActiveCampaign Website
NotifyVisitors is the best email marketing software today, boasting several features to help businesses like real estate create effective campaigns that reach their target customers. With this cutting-edge software, users can access extensive reporting data to understand how their campaigns perform and adjust them accordingly.
NotifyVisitors also provides detailed segmentation options, which you can use to provide tailored content for each customer segment targeted by a campaign. It offers the most modern tools and powerful automation to benefit businesses from maximum conversions and higher overall performance rates. If you're looking for email marketing software to take your campaigns to a new level, NotifyVisitors is the one for you.
It offers a free plan. Paid plans start from $49/per month.
GetResponse's plans are reasonably priced given the number of contacts included, with the Basic plan starting at.0 per month for up to 500 contacts. 
Compared to other services with equivalent features and contacts, this is relatively affordable. GetResponse is the Best Email Marketing Software For Real Estate with smaller email lists.
To receive automated processes, you must upgrade to the Plus plan. And the Plus plan starts at.69.79 a month for 1,000 contacts, which is significantly more expensive than competing businesses that provide automation for less money or even free.
Automations are clean and straightforward to use if you choose the Plus plan. You select a trigger based on a contact's activity, then send an automated message when that trigger is satisfied. It's a fantastic feature, even if the price is exorbitant.
However, the Basic subscription does contain autoresponders, which may be sufficient for your needs. Autoresponders may be used to send follow-up emails, welcome new subscribers, and promote property listings.
GetResponse may be more robust in analytics and reporting, which is the area where it could improve. 
Reports cover open email rates and which customers' contacts use, but these facts won't help you much with real estate, and they will not inform you which emails buyers opened or which links they visited. Also, read our GetResponse review article.
GetResponse Features
Email conversation Add a chat button to your email so that contacts may start a live discussion right from the email. This is ideal if you want to be available to answer brief queries regarding properties.
Autoresponders. Set up scheduled messages to be sent to subscribers, allowing you to set up a lengthier campaign without having to send each letter separately.
Hosting a webinar. Nurture customer connections by arranging online events where you can share buyer information and real estate ideas and even set up virtual open homes.
Funnels for conversion. Software that integrates product catalogs, ad campaigns, and e-commerce to help you integrate your email marketing service with your business operations. It's a good choice if you want a provider that will also handle your sales and assist bring people to your website.
Visit - GetResponse Website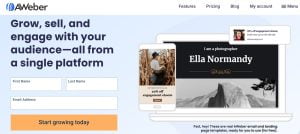 AWeber is excellent for realtors since, for starters, they are aware of their real estate clientele and offer a 19-page sector toolkit to assist you in getting started. This was a nice touch, especially for a business that wasn't explicitly marketed as a real estate tool.
AWeber's reporting is very excellent – even on the free account, you'll receive automation tools and statistics covering regional stats and subscriber behavior over time, allowing you to analyze your prospects thoroughly.
This is an excellent tool for serious real estate brokers, but I wouldn't recommend it if you seek something lighter or more beginner-friendly.
The only possible issue I discovered is that AWeber's automations only work on time-based triggers or when a new contact subscribes for the first time. It is impossible to define behavior triggers when a contact clicks a link, opens an offer, or visits a specific page.
So, while you may send home listings in Wyoming every three days to contacts who reside there, you couldn't send a follow-up email with other properties available in the region if someone read an email about a property in Portland. Also, read our AWeber review article.
Also, Read – AWeber Pros and Cons
AWeber Features
600+ templates are available. There are more themes to pick from than on other sites, albeit many look a little old-fashioned.
Emails using AMP. Insert image carousels into your emails to display a revolving display of high-resolution images. Although it might appear a little dated, this could be a great approach to present numerous homes or different views of the same house.
Tracking sales View information on which of your consumers are purchasing and how they interact with your website and ads.
Form creator, you can quickly add sign-up forms to your website to collect data and expand your email list.
Visit - AWeber Website
#5 – Mailchimp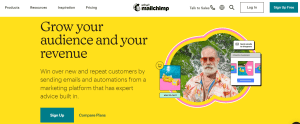 The free edition of Mailchimp provides all of the significant capabilities required by a realtor as long as your contact list does not exceed 2,000, which is somewhat helpful for free!. 
Basic automations, reporting, and marketing CRM will be available to you. You'll need to upgrade if you have a more extensive mailing list, wish to send more emails, or want access to extra tools like A/B testing.
Because of Mailchimp's merge tag capability, email personalization is incredibly customizable. You may customize subject lines and body information in infinite ways. Since you can define the tags as you like, you might include a contact's name, location, or even a personal favorite color!
While such customizable customization makes Mailchimp a strong choice, it falls short in the image category. Because image uploads are limited to 1MB, you won't be able to display enormous high-resolution images of properties you wish to market.
Mailchimp Features
100+ templates Although the templates are well-designed, none are pre-made for real estate.
Tags for email merge In the associated tag, insert customized information based on your contacts' data.
Extensive automation capabilities. Send follow-up emails, share pertinent information, contact website visitors, promote listings, etc.
Audience monitoring. Reports provide information on who is engaged with your campaign, such as when a contact opens a link, purchases something, or downloads something.
Visit - Mailchimp Website
#6 – SendX
It's a user-friendly, cost-effective, and feature-rich platform.
You don't need to know HTML or secret Sanskrit mantras to use SendX's email editor. It's a drag-and-drop editor that makes email creation simple and quick.
You don't even have to start from scratch with your email. You receive a responsive, pre-built template library that you may adjust to fit your brand or use case.
Whether you create your template or use one already exists, you may personalize it with the recipient's name, birthday, etc.
SendX's email marketing automation may help you save time, increase interaction, and drive more visitors to open houses or realtor expos.
SendX's automation tools allow you to build a sequence of emails sent to subscribers when a specified time, activity, or event occurs.
Begin a series of emails informing them of the reliability of your business, listings in your region, and a guide to assist them in buying their ideal home.
SendX Features
Manage Email List

Sending in Large Volumes of Emails

Creating and Customizing Emails

Outbound Email Sending

Control Email Deliverability

Automated email Responses
Visit - SendX Website
We hope this article helped you find the Best Email Marketing Software For Real Estate? You may also want to check out our guide on the Best Email Marketing Software for Ecommerce.