The days of direct mail are long gone, but that doesn't mean you have to give up on the practice of email marketing as an ecommerce business owner. Email marketing can be one of the most powerful tools in your toolkit to increase conversions and sales!
But before you start blasting out emails, it's important to choose the Best Email Marketing Software for Ecommerce business… otherwise, you may find yourself with little or no ROI on all that hard work you put into your campaigns! Here are some of the best Email Marketing Software for Ecommerce.
List Of The Best Email Marketing Software For Ecommerce
Finding the best email marketing software is a matter of objectively considering your specific needs and requirements. Before you go in, make sure you take your time and think about what you need. You can also test a free trial of some of the email marketing software you like best.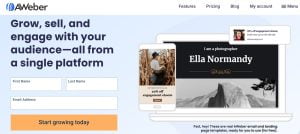 AWeber is one of the best Email Marketing Software for Ecommerce and is among the first to enter the market with email marketing solutions. One of its key features is the number of connectors it provides with eCommerce systems.
AWeber is a good choice if you want a complete solution with access to high-quality support and many training resources. It interfaces with BigCommerce, Magento, Shopify, and a slew of other eCommerce and CRM systems. Also, read our Aweber email marketing software review article.
Pricing starts at $19 per month for up to 500 members. Custom plans are available for subscribers greater than 25,000, and they provide a 30-day free trial.
Try Aweber For Free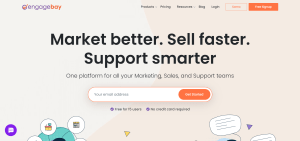 EngageBay is also among the top email marketing software for eCommerce. It has a wide range of features that are very useful for small businesses. The most notable feature is the ability to automate your email marketing campaigns according to customer behavior.
EngageBay integrates with Shopify, BigCommerce, and a host of other eCommerce platforms, in addition to Zapier and the like. There's also e-commerce marketing automation, which helps you recover abandoned carts and retarget website visitors.
Other key features offered by EngageBay include A/B testing, audience segmentation, triggered emails, reporting and analytics, integrations with eCommerce platforms, and support for products.
EngageBay can be used free forever if you have only up to 500 subscribers and need no more than 1,000 branded emails a month. For more, pricing starts at $14.99 a month.
Try EngageBay For Free

ActiveCampaign is a well-known email marketing software used by over 145,000 organizations worldwide. ActiveCampaign's marketing automation is like having another person on your team, whether you're a well-established company or just getting started.
Once you've integrated ActiveCampaign with Ecommarce site, you'll have access to a library of 500+ pre-built automations that you can use to start campaigns, such as abandoned cart emails or a welcome series, or develop a landing page in minutes.
ActiveCampaign also has over 850 pre-built connectors, allowing you to link all of your business resources.
ActiveCampaign uses your Shopify data to generate custom emails that increase sales. Use one of ActiveCampaign's 125 email templates to send personalized messages to consumers based on their previous experiences with your company.
This email marketing software also allows retailers to send SMS messages and integrates with Google Analytics and Facebook Audiences.
You can get started with ActiveCampaign right away by signing up for a free 14-day trial. You may pay $9 per month to upgrade to the Lite Plan if you enjoy it.
Try ActiveCampaign For Free
#4 – Constant Contact

Constant Contact was one of the oldest email marketing software, founded in 1995. It has created a highly user-friendly and beginner-friendly platform to assist everyone from ecommerce companies to bloggers in improving their email marketing approach.
With this email marketing software, you can quickly organise and expand your email list, manage templates, etc. It provides over 1 GB of file storage, an email tracking system, and a built-in social media sharing facility.
If you're new to email marketing, you can use Constant Contact's collection of training and webinars to master the fundamentals of email automation. Constant Contact offers a 60-day free trial to retailers before pricing starts at $20 per month.
#5 – Campaign Monitor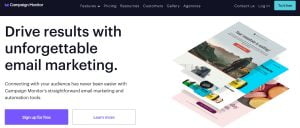 Campaign Monitor is one of the best Email Marketing Software for Ecommerce in terms of overall features, ease of use, and value. Its drag-and-drop editor and email templates promote beautiful design, or you may create your unique HTML emails from scratch.
Campaign Monitor is one of the few email marketing software that focuses on transactional emails in addition to marketing emails, allowing you to get more squeeze for your value with every email you send. Its one-of-a-kind visual journey designer makes it simple to keep track of all of those campaigns.
Campaign Monitor is completely free to download and use. Paid options start at $9 per month, depending on the number of members.
#6 – SmartrMail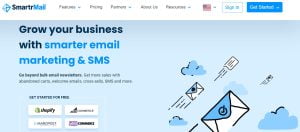 SmartrMail is an easy-to-use, low-cost, and effective email marketing platform. SmartrMail was founded in 2016 by two entrepreneurs seeking an email marketing platform to sell their online art marketplace but couldn't find one.
They created SmartrMail with a plethora of automated tools for creating email campaigns, such as an abandoned cart, welcome series, and thank you messages, to make it quick and simple to send beautiful, well-designed emails for your ecommerce company.
SmartrMail now offers a growing library of email templates from which to pick. You may also make your own using the WYSIWYG and complete HTML editor. It may also help you choose which goods to propose to consumers based on data, allowing you to increase sales and client retention.
If you have less than 1,000 subscribers, the free plan allows you to send up to 5,000 emails every month. Paid plans start at $19 per month and go up from there.
Also, read – Best WordPress Themes For Bloggers
#7 – SendinBlue
SendinBlue is a full-service SMS and email marketing platform for businesses. They are one of Europe's fastest-growing email marketing companies.
It is user-friendly software with fantastic features for creating visually appealing and highly engaging emails. Their easy-to-use drag-and-drop email editor is excellent for beginners with no prior expertise in email marketing.
SendinBlue features marketing automation tools for beginners that allow you to send transactional emails, establish workflows for automated follow-up emails, and segment users.
It may also use AI algorithms to determine the optimal time to send bulk emails to ensure maximum email deliverability. SendinBlue provides a 100% free email marketing service with a limitless number of contacts.
Their free plan allows you to send up to 300 emails each day, but all of your emails will be branded with their logo.
Their premium plans start at $25 per month for the Lite plan. You may also add SMS to your account. However, the cost will vary depending on your messaging needs.
They upgraded their premium plan to include more sophisticated tools such as landing page builder, live chat, sales CRM, and Facebook advertising integration. This means that users are now receiving more excellent value for the same payment.
SendinBlue also provides a standalone SMTP bulk email marketing solution that can be used to power automated or transactional emails from your WordPress site. This isn't required for email marketing campaigns, but it's a handy feature if you have a huge website and want automated real-time content-based emails.
Also, read – GetResponse Email Marketing Review – All in One Tool
#8 – HubSpot
HubSpot is one of the most well-known CRM and email marketing softwares. Their email marketing service is free to start, and it includes a plethora of solid automation capabilities indicated to help your business flourish.
You may use their simple drag-and-drop email builder and a variety of themes to create a customized newsletter that fits the personality and colours of your company.
You may customize your emails for each subscriber depending on device kind, country, list membership, or any other specific information you may have on the subscriber, with direct integration with the HubSpot CRM.
HubSpot has robust enterprise-level email marketing software features, like send-time optimization, high email deliverability, A/B testing, extensive performance analytics, marketing automation, drip campaigns, etc.
One of the primary reasons why small, medium and corporate clients like HubSpot provides an all-in-one marketing platform that includes email marketing, CRM, automation workflows, sales tools, website builder, operation hub, etc.
Hubspot Email Marketing provides a free package that includes the CRM and all of HubSpot's free marketing, sales, support, and operations features.
You may send 2,000 emails and store a limitless number of subscribers with the free version. You can create custom registration and popup forms, and landing pages, manage and track your online marketing, etc. It includes all of the tools you'll need to get started.
Their subscription options start at $45 per month if you want more advanced features.
We hope this article helped you find The Best Email Marketing Software For Ecommerce
? You may also want to check out our guide on the Best Email Marketing Software For Small Business.