Google Chromebook is one of the most popular laptops and tablets on the market, and it is used by millions of people worldwide. Video editing has become a standard requirement for Chromebook users in the current world. 
With the rise of the content production phenomena and the opening of social media and video-sharing platforms, the number of individuals using their devices to create content has increased significantly.
The content can range from gaming videos to How-to videos and tutorials, which aren't just for content creators but are frequently used by others to describe the function of any particular software or to share knowledge. 
Users worldwide have found the need for a video editor to help them make videos and share them on social media and other platforms in the most professional way. 
This article will discuss the top 7 Best Video Editing Apps For Chromebook.
List Of The Best Video Editing Apps For Chromebook
Gone are the days when editing videos required an expensive Windows or Mac machine. Because of Android and Linux applications, you can now do it on Chromebooks. There are certain restrictions, but you'd be shocked at how amazing these alternatives have become. Let us discuss the best video editing apps for Chromebook that you should consider downloading.
#1 – PowerDirector – Best Overall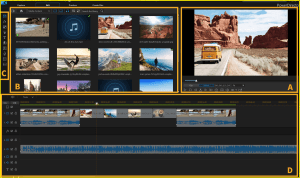 When it comes to flexibility, user-friendliness, and quality, PowerDirector checks all the boxes. Long-time users were unsurprised to see that this free video editor for Chromebook created Google's Editor's Choice list.
Each month, the software adds new special effects, video overlays, color grading tools, audio effects, and design packs to suit professionals and beginners. As a result, we found PowerDirector to be the Best Video Editing Apps For Chromebook.
Thanks to Chromebook's connection with Android applications, you can download PowerDirector directly to your PC. The App is excellent for making a video at home or when traveling. 
The user-friendly interface allows you to quickly create excellent transitions, dynamic motion graphics, and slow-motion scenarios and apply themed templates for fast adjustments.
Also Read – 7 Best Video Editing Apps for Instagram Reels
Through PowerDirector, you can also improve your video-creation process by having complete access to Shutterstock's free photographs, movies, and music database. 
PowerDirector is also an excellent tool for educators to use in the classroom and is available for an educational license.
While you may be concerned that the PowerDirector Chromebook App would lack the punch of the award-winning desktop editor, you need not be. 
The App's design closely resembles the desktop platform and allows artists to modify timelines easily. The dashboard's drag-and-drop functionality works perfectly from your phone, tablet, or desktop. Whether you like to edit with your fingers or a touchpad, or you prefer to use a mouse, you can expect an easy, user-friendly experience with this video editor for your Chromebook.
Key Features:
4K video editing

Green screen capabilities

Video stabilizer

Animated titles
#2 – OpenShot – Best Open-Source Video Editor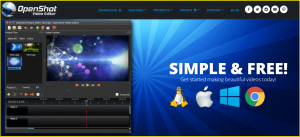 OpenShot is a free and open-source video editing App for Chromebooks. There are several advantages to using an open-source video editor, such as the fact that all of the program's tools are free, as there is no paid version that includes most of the excellent features. 
There is also desktop integration, so you can effortlessly drag and drop files from your Chromebook into OpenShot. Because it is open-source, there are no watermarks on the content, and it is continuously updated.
OpenShot, while not as feature-rich as most expensive Chromebook video editors, does contain some rather complicated functions, such as Bezier curves, keyframe animation, audio waveforms, and more. 
Color modification capabilities like brightness, gamma, hue, and greyscale are available in OpenShot, as are essential editing tools such as cropping, rotation, scaling, and snapping.
OpenShot, like our top pick for a video editor for Chromebook, PowerDirector, is routinely updated, user-friendly, and features more professional-level tools than you'd expect from a free video editor for Chromebook. 
Also Read – 7 Best Free Video Compression Software to Reduce file Size
While PowerDirector has the best rendering times for any video editing tool on the market, we found OpenShot relatively slow. We also observed that it had an old UI, unreliable performance, and lacked some PowerDirector capabilities, such as a free stock library.
Key Features:
400+ preset effects

Unlimited tracks

40+ vector title templates

Background removal
#3 – KineMaster – Best for Social Media
Anyone with a mobile and tablet device can easily use KineMaster to trim, arrange, the transition between, and export video clips into polished, high-quality videos. 
Because you can record and edit a short Tik Tok or Instagram Reel in real-time, we placed it the best Chromebook video editing app for social media postings. 
KineMaster has many attractive stickers, effects, frames, and other aesthetic features to help you produce a colorful post that your friends will love.
KineMaster features a powerful feature set packaged in a user-friendly UI. As in PowerDirector, creators may drag clips, music, sound effects, and other elements to the timeline layout. This Chromebook video editor's free edition gives you access to many themes, templates, and accessible material.
Also Read – Best YouTube Video Editor Apps For Android Operation System
A KineMaster membership will remove the watermark, eliminate advertisements, enable 4K video capability, and unlock all premium content and presets. This Chromebook video editor, like PowerDirector and OpenShot, provides many assets and features in its free edition. Still, the tools lack fine-tuning, and the quality is not as professional.
Key Features:
Eight blending modes

Chroma key

Reverse

Transitions
#4 – Adobe Express – Perfect for Adobe Creative Cloud Subscribers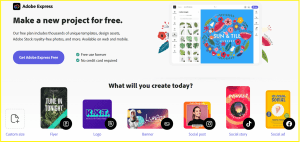 While most Adobe products are notoriously expensive and challenging, Adobe Express (previously Adobe Spark) is free and straightforward. Although the free version never expires, we named Adobe Express the Best Video Editing Apps For Chromebook for Adobe Creative Cloud Subscribers because they can enjoy all of the premium version's features at no additional cost.
You may be asking why someone who pays for software like Premiere Pro and After Effects would want a simple video editor. Aside from Acrobat, Adobe Express is the only Adobe product that is available on a web browser, mobile phone, and Chromebook.
Users of Adobe Premiere Pro may use the free video editor for Chromebook to record, edit, and share short videos on social media while on the go.
You may select from thousands of templates in Adobe Express to speed up the editing process. Whether creating videos for social media, websites, virtual classes, or marketing campaigns, the editing program includes drag-and-drop themes. 
This Chromebook video editor's free edition also includes effects, filters, texturing choices, and a small library of royalty-free Adobe Stock pictures.
Though the greatest design assets, themes, and stock are reserved for premium customers, Adobe Express still has sufficient of each to generate entertaining movies for personal or social network usage. However, anyone who wants to use the platform's branding and business choices will have to pay a premium for the Premium Edition of this video editor for Chromebook.
Key Features:
2GB of storage

Thousands of fonts and design assets

Remove background tool

Video overlay
#5 – Kapwing – Excellent for Collaboration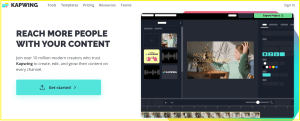 Kapwing is a Chromebook browser-based video editor with some excellent video collaboration tools. Because it is accessible over the internet, anybody can see and modify the material from any location and on any device Chromebook, Mac, Windows, Android, or iPhone. 
Like Google Docs, team members may edit and view each other's changes. Furthermore, your team's work is kept in one location, so you never have to worry about losing an important file.
The free version of this Chromebook video editor includes all capabilities but does not include paid material. Tools can add text, graphics, effects, and music to your videos, and a Smart Cut tool automatically removes silences. There are also a large number of templates organized by subject or platform.
Kapwing features a simple, user-friendly style and a plugin ecosystem, so anybody from novice to expert can enjoy this video editor for Chromebook. 
However, the team features are only available with a subscription, and Kapwing's premium edition is one of the most costly Chromebook video editors on our list. The free version also lacks privacy, allowing anybody with internet access to view your efforts.
Key Features:
Auto-generated subtitles

Remove background

Speed adjustment tools

Color adjustment
#6 – VivaVideo – Most suitable for Short Videos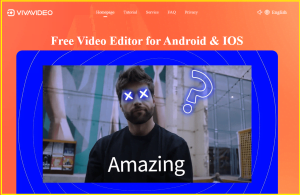 VivaVideo, like Kinemaster, is excellent for producing movies on the fly, and you can instantly record, edit, and upload from your Chromebook or smartphone. 
This Chromebook video editor is excellent for short videos. In reality, the free version limits you to videos of 5 minutes or less. However, because this software is usually used for social media posts, most videos will be shorter than 5 minutes.
Filters, effects, text, exciting transitions, sound effects, a voice changer, and a free music library are just a few of the entertaining gimmicks available in VivaVideo. 
You may even incorporate your music into your video. The App provides all aspect ratios for social networking, and you may switch between them anytime.
Like most of our free services, this Chromebook video editor offers a few functions reserved for paying users, such as color correction. A membership also removes the VivaVideo watermark, eliminates pop-up adverts, and enables you to make videos longer than 5 minutes. 
Because of the time constraints and advertisements that aren't included in our other selections, this video editor for Chromebook ranks towards the bottom of our ranking as a free version.
Key Features:
Emojis and stickers

Glitch effect

Trim/Split

Speed adjustment
#7 – WeVideo – Perfect for Beginners

WeVideo is another web-based Chromebook video editor compatible with all platforms and devices. It is Perfect for Beginners because it is simple to use and does not demand any commitment. 
There is nothing to install, and it is free. It also offers excellent customer service, so any inquiries regarding how to accomplish something will be promptly addressed.
WeVideo has 30 effects that may be applied with a single click. This Chromebook video editor also features excellent text themes and titles, which compete with many professional premium apps. It provides many product demonstrations and templates for prominent social networking platforms.
Even though the free version has no expiration date, it is more of a "try before you purchase" option because it would never function long-term for a content producer or company. 
You can only export 5 minutes of watermarked content each month with WeVideo! The free version of this video editor for Chromebook lacks capabilities, while the commercial version might be costly. Cropping, slow motion, green screen, social media uploads, and stock assets are reserved for subscribers.
Key Features:
50 transitions

Voice over

Screen recorder

Gif creator
We hope this article helped you to find the Best Video Editing Apps For Chromebook. You may also want to check out our guide on the Best Video Editing Apps for Instagram Reels. If you liked this article, then please follow us on Twitter and Instagram.