How to install a free SSL certificate in Hostinger
What is SSL Certificate: SSL, or Secure Sockets Layer, is an encryption-based Web safety protocol. It was initially developed by Netscape in 1995 for the purpose of ensuring privacy, authentication, and data integrity in Internet communications. SSL is the predecessor to the contemporary TLS encryption utilized now.
A site which implements SSL/TLS has "HTTPS" in its URL rather than "HTTP."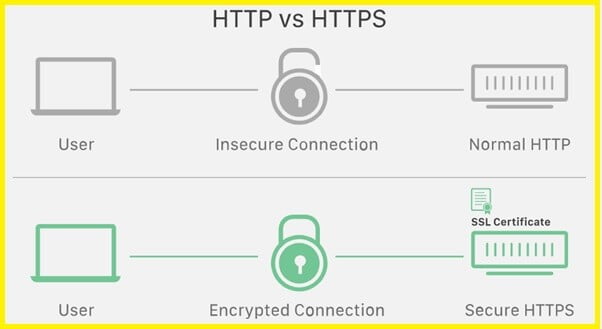 What is SSL Certificate?
SSL certifications are what enable sites to navigate from HTTP into HTTPS, and it can be more protected. SSL certificates create SSL/TLS encryption potential, and they feature the site's public key along with the site's identity, together with associated information. Devices trying to communicate with the source server will mention this document to get the public key and check the host's identity. The private key is kept confidential and protected.
Hostinger gives a free SSL certificate on all programs like entry-level or Premium shared hosting programs. But, There's not any way to find a free SSL certificate on addon domains in Hostinger. Which means you can get free SSL only for the main domain or only for one domain not for addon domains.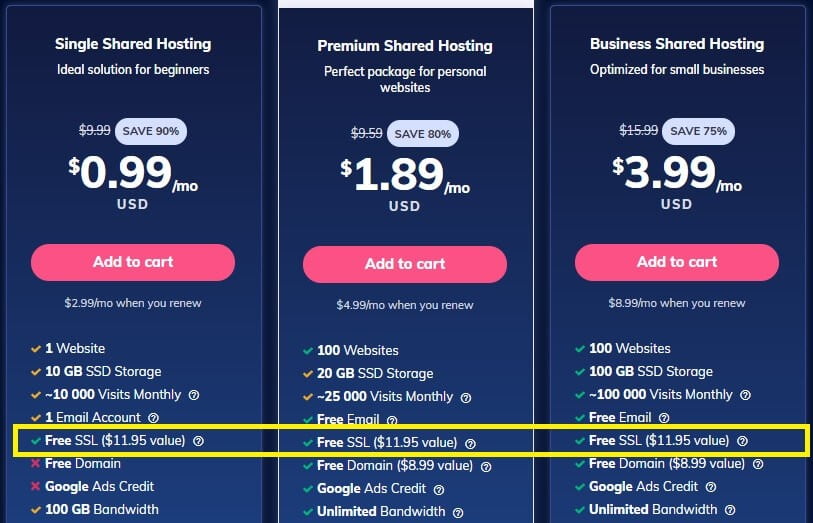 Before we get in the steps to how to install a free SSL certificate in Hostinger let me quickly tell you the benefits of SSL certification or SSL enable sites.
What is SSL:
Top 6 reasons for why your should have your website SSL enabled.
SSL Certificates help to ensure website security
It enhances the search engine ranking for your website
Your customers will see you as a trustworthy brand
SSL certification improves the speed of the website
The user experience becomes better on HTTPS websites
It helps to encrypt sensitive information
How to install a free SSL certificate in Hostinger
If you don't know how to install a free SSL certification in cPanel of Hostinger you can follow these steps for smooth installation.
Step1: Login to your Hostinger account with the given login id and password
Step 2: As soon you are successfully logged in you will get the below screen, where you can see "SSL" option on the header section.
Step 3: Click on the SSL link you can see all your domain listed below.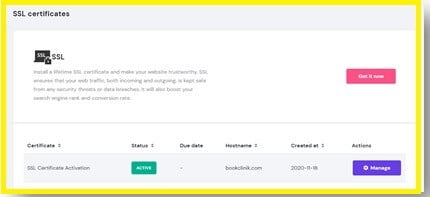 If your domain in newly configured you may get status as inactive or blank, in that case you can configure SSL certification from scratch.
NOTE: if in case you don't have free SSL certification you can click on "Get it Now" then it will ask you to buy SSL as shown in the below image.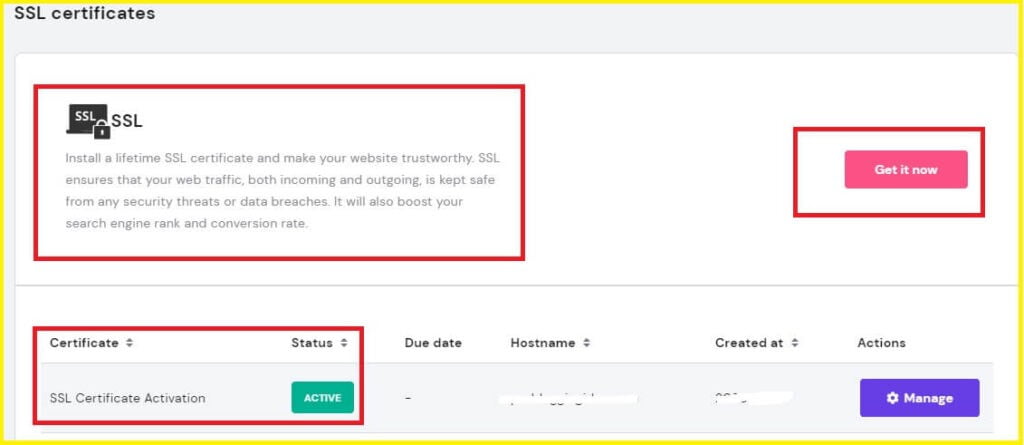 Otherwise you can click on manage.
Step 4: As soon you will click on manage you will be navigated to the next page where you can install free SSL certification provided by Hostinger to you domain.
Step 5: Now the next step is to click on "install" button given in the above screen. Once you will click on Install button it will take few minutes to automatically install SSL on your domain. Once the installation is done you can see few more details in the same area as show in the image below
You can again disable the SSL certification from Hostinger hosting.
These were the 5 steps which you can follow to install a free SSL certificate in Hostinger. This process is called automatic SSL certificate installation.
Apart from automatic SSL installation we can follow manual process to install SSL certificate in your hosting cPanel.
In the same area or in the same page you can get some more option which is called custom SSL.
Custom SSL
Custom SSL is nothing but we need to get the SSL key and certificate from the server and use them in our hosting to enable SSL certification.
To install fee a SSL certificate in Hostinger using custom method you need 3things
Certificate code
Private Key
Certificate Authority bundle
You can get these details in your Hostinger server it self if you have free SSL certificate.
You need to get the code for all the 3 items and paste in the respective areas and click on install it will start installing free SSL in your domain.
These were the two major ways to install a free SSL certificate in Hostinger. You can follow these steps and configure this.