Are you looking for the Best Point of Sale POS Plugins for WooCommerce to accept physical orders on your WooCommerce store?
WooCommerce handles everything related to eCommerce. You may generate sales and manage orders from a front-end system on your computer, tablet, or smartphone by using a WooCommerce point of sale (POS) plugin.
In this article, I'll explain how a WooCommerce POS plugin works. Then I'll go through the Best Point of Sale (POS) Plugins for WooCommerce.
How WooCommerce (POS) Point of Sale Plugin Works?
A WooCommerce Point of Sale POS plugin provides a front-end interface for usage in your physical stores.
The Point of Sale POS plugin will automatically connect to your online order business to sync orders, inventory, and other information. Most WooCommerce POS plugins often rely on the WooCommerce REST API, which allows for smooth integration.
While the specific approach differs depending on the plugin, most of these solutions will provide you with separate desktop and tablet apps/tools.
Some plugins do not offer particular tablet applications but provide responsive designs that let you use the web-based POS on multiple devices.
For example, selling at a local event, you may use an iPad to monitor orders. You will also be able to print receipts, read barcodes, and collect essential customer information.
Many of these programs will also operate without an Internet connection, so you won't need one (though you will need to connect at some point to sync data with your store).
List Of The Best Point of Sale POS Plugins for WooCommerce
There are several high-quality point-of-sale POS plugins that integrate with WooCommerce. However, the ranking of this list does not indicate the tool's quality. Instead, each method has different features that may be more suited to one organization than another.
What matters most is how simple the tools are to use and how simple it is to train your staff. If the tool is difficult to use, it may slow down your overall business process, which may cause customers to ignore you in favor of faster service.
Without any further ado, let's get right into it.
#1 – wePOS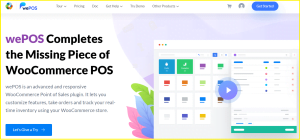 WePOS is a popular WooCommerce POS plugin that is available in both a limited free edition and an advanced premium edition.
With the premium edition, you may add an unlimited number of actual places, each with an unlimited number of "counters" (like separate checkout counters or devices).
Cashiers will be able to select their location and counter when they log in.
The UI is well-designed, with a grid and a quick Ajax search to assist cashiers in finding goods. WePOS also supports variable products, and cashiers may pick variants when selecting a product.
A tab-based cart management system allows cashiers to manage several carts at the same time.
You may take cash and credit card payments. After you place an order, you may print an actual receipt, with the option to personalize the design of your receipts.
Other useful features include:
Offline assistance

Tax calculations

Cashiers' secure login panel

Support for barcode scanners
The limited free edition allows you to accept cash payments (along with some other limitations). The premium version, which may be used on a single site, starts at $199.
#2 – Hike POS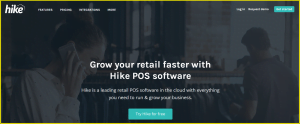 Hike POS is a well-known cloud-based retail POS software for managing your business with intuitive inventory and analytical reporting. It is a completely customized all-in-one plugin for running and expanding your business.
Hike POS allows you to enhance your sales, customer service, and inventory management systems effortlessly. It improves your capacity to handle all of your sales channels and transactions. This worldly-wise solution runs perfectly on all platforms, including the iPad, PC, and Mac.
Surprisingly, Hike also functions offline, allowing you to do business even when the internet is unavailable. When you reconnect to the internet, the data will be instantly synchronized back to the cloud.
As a result, it is more dependable and speedier than typical cloud POS solutions. Furthermore, this sturdy solution is appropriate for all online retail organizations.
Other useful features include:
Each register has a unique design.

improved sales reporting analytics

Scannable barcodes

Accounting, eCommerce, payments, and marketing software are all compatible.

There are no restrictions on the number of cash registers, users, or retail locations that may be added.
Price and Support: Various packages range from $59/month to $129/month.
#3 – WooCommerce Square
Square Point of Sale is a POS software that can be connected to your WooCommerce store to provide retail POS features. Integrating inventory and product data between WooCommerce and Square POS enables you.
Square is a popular point-of-sale system that will assist you in managing inventory, directing all transactions, generating reports and receipts, etc. When you install this plugin in your WooCommerce store, it will automatically update and synchronize all inventory changes from Square to WooCommerce.
WooCommerce Point of Sale Highlights:
Offer chargeback protection.

Quick fund deposits

You can track your sales and listings across all platforms on a single platform.

Accepts online payments from all major debit and credit cards across the world.
Price and Support: A single site membership costs $79. The membership includes a year of updates and support.
#4 – Lightspeed POS Integration

Lightspeed POS Integration enables you to manage your business while linking your WooCommerce store and Lightspeed Point of Sale account. It will keep the inventory in sync and all transactions running smoothly.
You can manage inventory, service, data, personnel, and customer connections all from one interface with Lightspeed POS.
Lightspeed POS Integration Highlights:
All transactions may be managed from a single platform.

When a new sale is made, communicate and sync the inventory.

Assist in updating stock characteristics on the WooCommerce interface.

Merchandise should be managed through several channels.
Price and Support: It costs $149 and comes with a 30-day money-back guarantee. It also provides global support teams and secure online payments.
#5 – WooCommerce POS
WooCommerce POS by Kilbot provides a simple interface for taking orders through your WooCommerce business. It can be a good substitute for Vend or Shopify POS.
This self-hosted solution makes use of the same database that your shop does. Therefore you may own your data without monthly membership payments.
Furthermore, your inventory will always be up to date with all transactions. You may configure and use this WordPress plugin in a few simple steps, or you can do it manually.
Furthermore, the premium edition of WooCommerce POS allows you to access advanced features like payment gateways, customer relationship management, numerous report generators, and many more.
WooCommerce POS Highlights:
It is possible to translate it into your local language.

All browsers are supported.

Quick product search and filtering

Easily change product inventories, names, and prices.

Shipping method and select a tax rate.

Create numerous stores with different tax rates and receipts.
Price and Support: The free version is available without cost. The pro edition costs $129 for a single site license, including one year of updates and support.
Also Read – 7 Best Travel Booking Plugin For WordPress Website
#6 – Point of Sale System for WooCommerce (POS Plugin)
Do you want to turn your computer or tablet into a cash register? If so, the Point of Sale System for WooCommerce plugin is an excellent choice. You can also see it on various devices by visiting their demo site.
This plugin is excellent for any retail store, restaurant, food seller, or small company.
Said this plugin will convert your web browser into a WooCommerce cashier interface. You may use it to choose the products you want to sell, calculate the final amount, and produce a receipt to print on another device.
You may even make your coupons and discount codes, which might inspire people to visit your retail outlet or spend more in general.
Most especially because it supports tablets, it is excellent for outdoor businesses such as food trucks or market stalls.
Is a Point of Sale POS Plugin Required for Every WooCommerce Store?
While operating a shop without a POS system is possible, nearly no one does.
This is because most business owners recognise the value of a POS plugin. These technologies improve the efficiency of your business by simplifying the checkout process. However, the majority will also assist behind the scenes.
POS plugins, for example, help in inventory management. Back in the day, this was something you had to count out (or hire someone to count) physically.
Instead, using a POS plugin, each time that item is purchased, it is deducted from the total quantity you own. As a result, you never sell what you don't have.
Another necessary element of consideration is if you have the personnel. The majority of cashiers are part-time employees that come and go. Every time you recruit a new employee, you must educate them about the system.
It's a lot of labor that might take a lot of time, resulting in a loss of annual income.
A POS system helps this by simplifying the process and making it simple. It also ensures that the same system links to your online store, maintaining all data in one place.
Final Thought
An automated Point of Sale system expands your company's capabilities by syncing all client management and purchase information data. If you operate a WooCommerce store, you must buy the best WooCommerce POS for your eShop to make all transactions transparent and manage inventories simultaneously.
To efficiently manage all aspects of your WooCommerce business, including inventory management and analytics, you need to use an intelligent POS system right now.
Also Read – 5 Best WordPress Membership Plugins (Compared)
Best Point of Sale POS Plugins for WooCommerce – FAQ
How does the POS system function?
An intelligent POS system controls all data on order processing, inventory monitoring, sale transactions, and payment methods from a centralized database. It maintains communication between departments and promptly refreshes the database. As a result, it automates stock management and billing.
Why should you think about a POS system for your business?
While making a transaction, a POS system with stock control tools can sync your inventory. As a result, you can quickly follow product movements and make more informed purchasing and sales decisions. It saves you time and effort while increasing your profit margin by organising all management operations.
What is the price of a POS plugin?
It is defined by the size of your company and the number of customers. However, you may reduce the initial cost by putting a free POS plugin on your WooCommerce site.