Divi WordPress Theme Review: Divi WordPress Theme is one of the best multipurpose WordPress theme from Elegant Themes, and it's also one of the most popular WordPress themes available today.
As it's a multipurpose theme, it had been created to be suitable for any website you want to create with the help of WordPress.
Divi theme has been regularly updated and improved. The theme now includes the most powerful drag-and-drop page builder tool, many website templates, and countless customization options, settings, and other powerful features. It's competitively priced, too.
Divi WordPress Theme looks good on paper, but is it the proper theme for your WordPress website? That's the question we'll help you in answering during this Divi WordPress Theme Review.
By exploring this theme's features and user experience, you'll easily decide whether Divi WordPress Theme is the best option for your project or not.
Let's get started…..
About the Divi WordPress Theme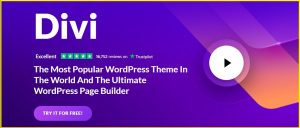 Divi is a WordPress theme and a standalone WordPress plugin created by Elegant Themes that enables users to make websites using the simple drag and drop Divi page builder.
It will be compared to other page builders and themes. This is a simple page builder that makes it easy to design websites without knowing any specific computer languages like HTML, CSS, etc.
Therefore, it can be utilized by anybody of any age group. It further helps democratize the method of designing.
It also helps website owners with little design or design to make a good-looking site that works perfectly and might be presented for usage, and it's also finished with the help of best drag and drop usage.
The Divi page builder plugin will be used with any WordPress theme because it is a separate plugin. The website element consists of varied sections like rows, columns, and modules.
There are separate modules for all the other functions like text, image, gallery, slider, blog, CTA buttons, and many others that don't seem to be mentioned here.
Divi WordPress Theme Review & Overview
While this Divi WordPress theme review explores the powerful features of this theme in enough detail to help you choose if it is correct for you, 
Here's a quick review and overview of a number of the highlights to provide you a quick indication of whether or not this can be the kind of theme you're looking for:
Large library of high-quality templates: Divi comes with many editable templates for all kinds of websites.
Powerful content editor: The Divi Builder tool is among the best feature-rich drag-and-drop content editors for WordPress.
Split testing content optimization tool: The Divi theme Leads feature gives you the flexibility to optimize your content for the best conversion rates possible by running A/B tests.
Comes with additional themes and plugins: All purchases of Divi theme come with the additional theme plus many useful WordPress plugins.
As you'll be able to see, if you decide on a Divi theme, you will get access to a large and growing selection of pre-built page templates, a strong visual content editor, and a few other powerful features to help you to make sure that your content not only looks great but helps you to achieve your business goals.
Divi WordPress Theme Security:
Though we all know that WordPress also seems to possess several other security glitches, these security concerns have ever been increasing together with the increase in its user list. 
WordPress users have become more and more vulnerable and concerned about their data. 
Divi theme also has its glitches, but the good news from the Elegant Themes itself. They thrive on producing the quickest response to any security issues which arise. 
Also Read – Hostinger Web Hosting Review
They prompt updates and systematic details on the way to mend any flaw.
Generally, Divi themes deploy safe and secure digital codes to manage any defect, yet not done by many other products. 
The WordPress security company Sucuri certifies Divi themes safe by a complete code audit.
Divi Theme Pricing:

Yearly Access
To reap the benefits of the Yearly subscription and access to the fundamental features, you've got to pay $89/year.
This can be the very cheap rate that Divi Themes offers. With this basic version, you get access to the features of Divi, Extra, Bloom, and Monarch. You've got no limit on the number of website packs. 
You have a large range of choices for various templates in a very well-organized template library. It comes with a super-efficient network and highly detailed product updates. And every one this comes with a "Risk-Free Guarantee."
 If you're a bit doubtful and yet you're determined to do it, this is often the best price you'll be able to choose.
Lifetime Access
For reaping the most effective long-term benefits, you'll be able to choose the Lifetime subscription at the price of $249.It empties only a substantial sum once from your pockets and wrenches out the most effective for your business.
This doesn't have any new features or add-ons though if you would like to keep your work simple yet extensive for as long as possible, you'll certainly choose this.
However, you get lifetime updates and an extended-term network. The sum of cash invested is extracted through business profits.
Divi WordPress Theme Pros
A versatile companion for your needs: The vast array of templates, layouts, and features, assist you to re-create exactly what's on your mind! you'll be able to create your dream website and display your product or services most appealingly. It's beat your hands!
Divi Builder: it's one of the most effective and most powerful page builders in the market. It's completely optimized to Divi theme and saves you the effort of finding another compatible page builder to customize your themes. Very efficient, right?
Your feedback won't move in vain: With Elegant Themes rolling out regular enhancements and updates to enhance its features and interface, you'll surely have the most effective of what's out there.
Excellent Customer Support: Previously within the con list, customer support has been bumped up several notches.
You now get an efficient, fast, 24/7 customer support messenger bot together with laid-out descriptions of features on the Elegant Themes blog.
Great Value for money: With the worth you pay, you get not only a terrific theme builder but also a compatible page builder, Divi builder.
As if this wasn't enough, you furthermore might get three free plugins that you can use us again and again as you wish and on whatever number ever websites you desire to. Updates are extended regularly and at no added cost. Divi theme runs an excellent bargain!
Divi WordPress Theme Cons
Lengthy learning curve: The plethora of features, layouts, and themes available at your disposal, might take up a great deal of some time to maneuver and find the hang of. The number of creative freedom offered by the Divi theme can get overwhelming for newbies.
Loading time: Your Divi site uses many embedded shortcodes to make sure you exert minimal effort to build your website. This, added to a large number of customizations, can result in a slower loading time for your site.
However, the Elegant themes team has been rolling out performance upgrades to ensure that this problem is addressed. They also offer useful recommendations on their blog on the way to optimize and speed up your site.
Divi WordPress Theme Review Conclusion:
Divi could be a powerful theme that will be wont to create any website with WordPress CMS.
If you're searching for a WordPress theme with a collection of templates that's able to go, there's the best chance you'll find what you would like within the Divi WordPress Theme Layout Library.
On the other hand, if you would like to make a custom WordPress website from scratch, Divi theme and page builder have all the features you'll have to be compelled to make this possible, all without the requirement to edit any code.
Divi WordPress Theme Review FAQ
What is Divi?
Divi is straightforward to use WordPress theme from Elegant Themes, which is the most well-liked and best-selling theme. It's focused on being easy to use and will be used on any helpful website as a multipurpose website theme.
Divi theme Support multiple websites?
Yes, you'll be able to use the Divi WordPress theme on multiple websites. Once you buy a license, you'll use the Divi theme on unlimited websites without any limitations.