Best Free Video Compression Software: The size of videos captured with your Smartphone or digital camera may be too large for online usage. Videos in Full HD or 4K quality can take hours to upload to any video file storage site, and they frequently reach the video size limitations on social media networks.
PC users who post video content on their social media accounts or have a YouTube channel may effortlessly compress their video on Windows operation systems. On the current version of Windows, there are many alternatives for reducing the size of a video, but which one you select depends on many things ranging from your preferred way of reducing the size of a video file to how quick the compression process is.
In this article, we are going to take you through the Best Free Video Compression Software to Reduce file Size and help you discover the one you feel comfortable using.
Why should I Use Video Compressor?
The video file is large when you capture a video using an HD camera, and those large video files cannot be sent over social media or WhatsApp. As a result, reducing the size of video files is important.
To compress video files, you can use any software listed in this article. However, remember that you must choose MP4 AVC H.264 as the video format. It provides excellent quality in less size, and it is also a frequently used video format on the internet. You may post videos to almost any media network with this video format.
List Of The Best Free Video Compression Software
#1 – Wondershare UniConverter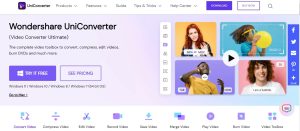 Wondershare UniConverter is one of the best free video compression software for Mac and Windows. The most excellent part about Wondershare UniConverter is its simplicity, which allows you to compress any videos without losing quality while still editing them. It provides lightning-fast conversion speeds while allowing you to compress videos from YouTube directly.
You may also edit videos in a variety of frequently available formats. With this software, you will be able to add a variety of effects and transactions. It is available for free as well as a premium option. It also lets you add audio tracks and music files to the videos you're working on to improve the video output.
Though the free version is more than sufficient for compressing videos and doing basic video editing tasks, it can only convert/compress one-third of the original video duration.
For example, if your source video is 30 seconds long, the free edition of Wondershare UniConverter software will only convert the first 10 seconds. 
Don't worry; there will be a modern answer for every current difficulty; apply your common sense, and you can get around this restriction with minimal extra work.
#2 – VLC
VLC supports all video file types; this is probably one of the best open-source media players ever created. Aside from video playback, VLC also has a video editing option that may help you remove unwanted parts of video footage or add filters and effects. In VCL, you may compress a video in three ways.
Converting a file implicates:
Changing its output file format.

Adjusting the bitrate and frame rate.

Cutting and recording segments of the video clip to be compressed.
Changing the file type in VCL is the quickest and most effortless approach to minimise its size. You may complete this by selecting Convert/Save from the Media menu.
Then, choose one of the available profile presets from the Profile drop-down menu and the most appropriate choice for the context in which the video will be used. If you want to adjust the resolution of a video manually, you may click on the Settings icon next to the Profile drop-down box.
#3 – VideoProc Converter
VideoProc Converter is a simple yet effective video compressor that offers a variety of video compression options for both Windows and Mac users. Transcoding, converting, decreasing the bitrate/resolution/frame rate, chopping, cropping, raising the GOP value, and eliminating the audio track can all be used to reduce video file size. It supports all forms of huge videos, including 4K, HDR, 360-degree, high FPS, and 3D media.
VideoProc Converter delivers over 90% file size reduction while retaining 98 per cent original quality thanks to its newest compression algorithm and High-Quality Engine. It also serves as a Swiss army knife in your digital life, as it can easily edit, convert, download, and record desktop screens.
VideoProc Converter Key Features:
A real-time estimate of the final video file size is provided for your convenience.

Presets for beginners and general compression settings for experts.

Free trial with no watermarks or restrictions on file size or output quality.

Deliver 47x quicker real-time video compression with approximately 2% CPU use.
#4 – Movavi Video Converter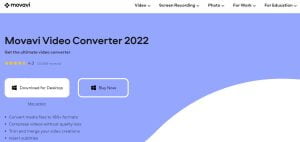 Movavi Video Converter is another Best Free Video Compression Software to Reduce video file size; it allows you to convert files between 180+ video, audio, and graphics formats in seconds. 
To boost conversion speed and minimise CPU load, the software supports Intel hardware acceleration and NVIDIA and AMD technologies. You may also edit files before converting them, such as adjusting colours, improving audio, stabilising shaky footage, etc.
Compression is simple by using Movavi's video file converter. You may modify the output file size simply by using a slider, displaying the video quality. 
The free trial edition lasts seven days, includes a watermark on all videos, and allows you to convert just half of an audio file. These limitations are removed after purchase.
Also, Read – Best WordPress Plugins For Your Website
#5 – HitPaw Compressor
HitPaw Compressor is a new Video Compression software presently available for Windows devices, with a Mac version coming shortly. This video compressor may significantly decrease file size without losing quality. It supports the most popular video formats, including MP4, MOV, AVI, WMV, FLV, and MKV.
Aside from videos, HitPaw Compressor can easily compress picture files. If you routinely deal with picture and video compression, this is an excellent solution. 
The free version of HitPaw Compressor allows you to compress up to 5 videos simultaneously and does not include any watermarks.
The premium version allows you to bulk compress up to 5 videos at once and manually modify the compression quality. However, the free version of HitPaw Compressor does the job well and can decrease the video file size by about 75%.
#6 – Freemake Video Converter

If you are a Windows user seeking a reliable solution to compress your videos, Freemake Video Converter should be your first choice. Over 93 million people have used this tool in the previous eight years, and it is regarded as one of the most excellent video converters on the market.
It can compress and convert videos into over 500 formats and is compatible with all modern devices. The most significant feature of this software is its low cost.
You may use Freemake Video Converter for free, but there are conditions such as a watermark on the final video output and a reduced compression speed. 
The creator of this programme is purposefully slowing down the compression speed and costly advertising memberships for considerably faster speeds. 
It is currently only available for Windows PCs and laptops.
#7 – Handbrake
If you want something with extensive capabilities that professionals can use, you should try Handbrake. 
It is open-source software and one of the best video compression software available for customers, and it is an excellent option for the many video compression programmes available.
Handbrake is available for both Mac and Windows operating systems, and it allows you to adjust the results of your inputs.
The majority of the optimizations that Handbrake allows you to make will influence the quality of the output video since you may modify the codec, video quality, and video FPS.
Handbrake has a live compression preview and compression options for various devices.
We hope this article helped you find the Best Free Video Compression Software to Reduce file Size? You may also want to check out our guide on the Best Email Marketing Software For Small Business.