How To Cancel LinkedIn Premium Subscription: LinkedIn can assist you in making vital professional contacts and expanding your network of like-minded individuals.
Adding LinkedIn Premium features to your profile could improve your LinkedIn experience, making it easier to locate new job possibilities, advertise your organization, and find qualified people for various positions.
It's usually preferable to cancel your subscription if you no longer use LinkedIn Premium or don't want to pay for it. Fortunately, the process to cancel LinkedIn Premium is really quick and uncomplicated.
Here's everything you must know, including what you can do if your subscription management is out of control.
How To Cancel LinkedIn Premium Subscription?
There are four main reasons why a person or company might want to cancel their LinkedIn Premium subscription. They are as follows:
They wish to end their free trial period:
Any LinkedIn Premium plan comes with a free month. This offer allows customers to try out the benefits of a premium LinkedIn subscription for the first 30 days without having to pay anything.
This is a massive benefit for anyone or any company that actually wants to use the premium features to achieve its objectives.
Unfortunately, many individuals sign up for the free trial on the spur of the moment to experience what it's like, even if they don't truly need it.
As a result, people waste a valuable resource and become anxious as the trial time approaches its end. Thus, they have no choice except to discontinue their subscription.
They signed up by accident:
Novice users who are not tech-savvy and are accessing LinkedIn for the first time may unintentionally subscribe to a premium LinkedIn plan.
But, of course, it's entirely expected that they wish to cancel their premium subscription because they didn't choose to do so.
If you find yourself in the same scenario, don't panic and cancel your subscription straight away. If you cancel the LinkedIn premium subscription two to three days before the trial period finishes, you will not be charged.
During this time, you can familiarise yourself with the plan's features to determine whether cancelling is a wise choice.
They've signed up for the wrong plan or wish to switch to a different one:
There are currently four types of LinkedIn premium plans available: Career, Business, Sales, and Hiring. Each of these has its own set of features that are appropriate for various applications.
As a result, a person may unintentionally subscribe to a plan that is not the one they intended to subscribe to.
In this situation, they must cancel their current plan and subscribe to the desired plan.
When using a plan, a user may have varied expectations. If a user wishes to increase their revenue, for example, both the Sales and Business plans can be beneficial in the long run.
They don't see the value in paying for the premium plan:
People with a limited amount of time, money, or technological knowledge would not fully utilize all of the benefits of a premium LinkedIn membership.
As a result, they can miss out on fantastic results. It's also possible that they've discovered a more effective sales or brand-building alternative to LinkedIn.
Physical networking or SEO forums are a few examples. If they only have time and money to spend on one resource, they must do so until they acquire more.
Also, read How to create a digital product blueprint
How to Unsubscribe from LinkedIn Premium?
So, you have decided to cancel the LinkedIn premium subscription from your account. Doing so is very easy; the process can be completed in a few of minutes or even less.
There aren't many stages to complete, and LinkedIn doesn't try to make it difficult for you. You will also be able to access the Premium features of LinkedIn until your current billing cycle ends if you cancel your subscription.
Do remember that you won't be able to deactivate your Premium subscription from an iPhone or Android smartphone using LinkedIn's mobile application.
However, if you purchased your membership through a web browser or iTunes, you can cancel it there.
With step-by-step instructions, here's How To Cancel LinkedIn Premium Subscription: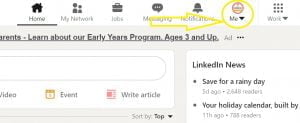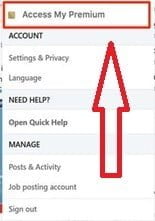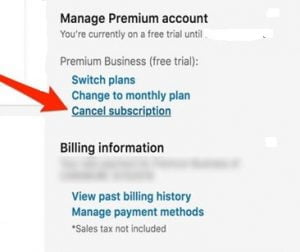 Using your web browser:
Log in to your LinkedIn account at LinkedIn.com. Then, on the top part of your LinkedIn homepage, click the "Me" symbol to display a dropdown menu.
Go to your LinkedIn Premium account page by clicking "Access My Premium."
Select "Manage Subscription" from the dropdown menu.
Click "Cancel subscription" under your subscription heading.
If you're offered the option of keeping your subscription, select the option to cancel it.
Select "Continue to cancel" from the dropdown menu.
Choose a reason for cancellation and then click "Confirm cancellation."
Cancelling the subscription on iTunes:
It's a MUST to cancel LinkedIn Premium subscription through iTunes if you purchased it through iTunes. Here are the procedures to cancel LinkedIn Premium on your iOS device using iTunes:
On your iOS device, pull up the settings.
To access the Apple ID menu, tap on your name.
Select Subscriptions from the dropdown menu.
In the active subscriptions' dropdown list, select LinkedIn Premium.
Tap "Confirm" after selecting the "Cancel Subscription" option.
Is it worthwhile to pay for LinkedIn Premium?
If you obtain enough value from LinkedIn Premium's features, it's probably worth the monthly fee. For example, you could use InMail to interact with potential employers or employees or use the Premium Insights function to learn more about a company.
In addition, on the page "Who's Viewed My Profile", you can get a complete list of who has viewed your profile.
However, if such features and few others like this aren't important to you, a free basic account is usually the best option.
What are the LinkedIn Premium Benefits?
Find out who is looking at your profile:
The first reason is that you will be able to see who has viewed your profile. That may not appear to be a big deal, but it's highly beneficial for building meaningful connections.
A large number of people is viewing LinkedIn profiles. Some of them work as recruiters. Others are CEOs and supervisors on the lookout for new employees.
In addition, many people in your field are looking to expand their professional networks. LinkedIn Premium is worth it because of all of these people.
Improved Metrics Are Now Available:
The LinkedIn Premium Benefits are definitely worth it when you apply for employment. You can utilize LinkedIn Premium to learn more about your competitors.
For example, you can examine the number of people who applied for a position, their qualifications, and whether your skill set matches theirs with Applicant Insight.
You can also check your search appearances and profile views if you upgrade to LinkedIn Premium.
To gain access to the LinkedIn Premium Badge:
Finally, one of the essential LinkedIn Premium benefits is that it can help you advance your career. The small gold icon in your profile and search results may appear insignificant, but it signifies that you're serious about utilizing LinkedIn to make connections.
When you have that badge, you might be astonished at how much more seriously people take you. Regarding job hunting and professional networking, it's really worth having.
Conclusion:
If you follow the procedures outlined above, to cancel a LinkedIn Premium account will be a simple process. However, to avoid being charged again, make sure you cancel it at least a day before the billing month finishes.
If you run into any problems throughout the cancellation procedure, you should contact customer service to prevent wasting time and worrying unnecessarily.
Do you have any questions on how to Cancel LinkedIn Premium Subscription? Let's mention them in the comments section below!