People are constantly reminding you that your WordPress site must load fast. But how can you decide how fast your site loads to know where it stands? 
Use one of the best WordPress speed test tools, which I will share in this article.
All of these tools make it simple to evaluate the performance of your WordPress site, and it's as simple as pasting in your site's URL and letting the tool do its magic. 
Some tools also provide flexibility when testing multiple circumstances, such as different locations, devices, connection speeds, and more.
This article will share the seven best WordPress speed test tools.
Which tools are better for beginners and which are suitable for expert users?
How do the tools calculate the load time of your website.
Let's have a look at the tools.
List Of The Best WordPress Speed Test Tools To Improve Your Website
Their many WordPress speed test tools are available for use, and each has a unique method of checking speed testing and giving speed analytics. However, you should use the best WordPress speed test tools rather than blindly trying each one.
#1 – Google PageSpeed Insights
Google PageSpeed Insights is an open-source service that runs speed and performance tests on your website. It's easy to use and can perform tests for both mobile and desktop under various conditions.
The site insights results are broken down into many categories: Field Data, Lab Data, Opportunities, Diagnostics, and Passed audits. For example, in the field data, FCP (First Contentful Paint) indicates the time it takes for the page's content to load, while FID (First Input Delay) means the page's responsiveness.
Opportunities highlight places for progress, Diagnostics show specific concerns that need to be addressed, and Passed Audits advise you of areas where you are growing.
When a Google service provides you with information about your website, you should take it seriously. This is because most of your visitors will conduct a Google search, and Google controls the search ranking.
#2 – GTmetrix Speed Test

GTmetrix its extensive observations and performance analysis. GTmetrix is one of the most popular and best WordPress speed test tools. It's helpful to use, given the usability and quality of the information.
GTmetrix provides a rating system for websites based on their performance, which is prioritized. Your website is graded, and then the web vitals with information follow.
There are many parts with specific information for the Summary, Performance, Structure, Waterfall, Video, history, and all the facts and top issues to solve.
#3 – WebPageTest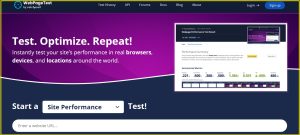 WebPageTest, on the other hand, is one of the better loyal and trusted site speed testing tools available today. WebPageTest's main advantages are as follows:
Each run of WebPageTest that a user initiates can have its own set of unique options.

WebPageTest may be customized to use a wide range of alternative locales and web browser choices with all of these parameters. Your website may be slow in Google Chrome yet lightning fast in Firefox, and WebPageTest can let you know if that's the case.

Users may require WebPageTest to run several times. This might help you choose whether your website's page speed is consistent.
WebPageTest is open source and free to use. It isn't glamorous, and the findings and diagnoses aren't particularly user-friendly. However, the data is correct. And, if you understand what you're conducting, WebPageTest may provide you with a variety of data to evaluate.
#4 – Pingdom
Pingdom offers customers a good balance of choices and simplicity for the most part. As a result, Pingdom provides the following advantages:
Pingdom now allows customers to test their webpage performance from four distinct places. You'll want to select the closest testing location to your website's geographic user base.

The results are simple, with a letter grade breakdown of performance insights and a detailed list of problems to fix.

The waterfall is one of the easiest-to-read webpage performance testing tools, and the data is organized to allow you to search deeper.
Pingdom is a surprisingly comprehensive website performance tester. It has a primary and easy-to-use UI. The resulting data is well-organized, making it simple to scan or go deeply into the specifics. Pingdom is an excellent solution for providing a piece of client-facing information while also providing your developer with detailed information to fix issues.
#5 – Load Impact
Load Impact differs from the other website seep test tools on this list in a few ways. It allows you to explore how your website slows down when many users come simultaneously.
It is a premium service with a short free trial period in which you may send 25 virtual users in 3 minutes. You may test higher traffic loads with the premium version. This lets you test your website's performance while testing how additional traffic impacts your website.
#6 – Uptrends
The Uptrends website speed test tool allows you to evaluate your website speed on various browsers (Chrome, Firefox, Internet Explorer, Phantoms JS) and internet connections (Native, ADSL, Fiber, Cable) while taking into account the variety of visitors from across the world.
First, you'll see an overview of your website's performance, including the Google PageSpeed score, overall load time, home page size, requests required, and the sorts of connections you're using.
Second, you'll receive performance improvement analytics, in which the program recommends which areas you should work on to enhance the speed of your website.
Finally, you receive a request for your website's Waterfall analytics. You also receive tables and figures for the object kinds, object bytes, etc.
#7 – Yellow Lab Tools
The Yellow Lab Tools is one of the newest and brightest editions to website performance testing. It can evaluate your website's performance and do a page speed audit and a front-end analysis. For a better understanding, you get highly detailed metrics.
Initially, the website speed test plugin displays your website's Global score. Later, you will receive extensive information about individual components and their performance in several aspects such as Page weight, Requests, DOM complexity, JS Complexity, JQuery CSS, Fonts, etc. These choices include specific data that can help your website run quicker.
Final Word
If your website takes too long to load, customers may click the back button, leaving a negative impression of your brand and considering your website to be of low quality.
If your page has a lot of pictures and videos, you might think about using delayed loading techniques, usually known as lazy loading. This allows the content to be loaded as a user scrolls down, but only the content visible on the user's screen is loaded.
You should always use an image compression tool to ensure that your images are optimized for the web.
The TTFB is the second key metric you should test. If your web server consistently displays a slower time to the first byte, you should contact your web hosting provider.
We hope this post has helped you find the Best WordPress Speed Test Tools To Improve Your Website? Also, read – Best Web Hosting Sites