Are you seeking the Best WordPress security plugin to keep your website safe from cyber-attacks?
A security flaw might risk your website's authority in the eyes of Google as well as your readers. A decent plugin will help defend your WordPress website against brute force attacks, viruses, and spammers.
Let's have a look at some of the best WordPress security plugin to keep your site safe.
Do I Need a WordPress Security Plugin?
If you're wondering whether WordPress security plugins are required, the answer is yes. Consider this statistic: the average website gets attacked more than 20 times each day.
And if any of these attempts succeed, it might badly harm your online business.
That is why the security of your WordPress site and internet security measures should be at the top of your priority list.
Your WordPress hosting provider cannot protect you from all threats. Some of the negative consequences of a security breach include:
Online fraudsters can steal your and your customers' data.
Private information about your company and its clients might be compromised.
Your website's content might be entirely removed.
Your website may inadvertently deliver malware to visitors, harming your brand and SEO results.
Repairing a hacked WordPress site may be a time-consuming and expensive operation.
Having the best WordPress security plugin installed on your site is critical for all of these reasons.
So, now that you're aware of the dangers of an unprotected website and why you need a WordPress security plugin, let's look at the best options.
Also, read List Of The Best WordPress Backup Plugins Compared
This list should assist you in selecting which one is perfect for you and your company.
List Of The Best WordPress Security Plugin:
So, which security plugin provides the most satisfactory WordPress protection and is most suitable for you? Let's have a look at a few of the most popular WordPress security plugins:
Sucuri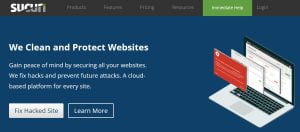 Sucuri is the WordPress security market leader, and it is one of the best WordPress security plugin available. They provide a free essential Sucuri Security plugin that assists you in hardening WordPress security and scanning your website for typical threats.
However, the actual value is in the paid subscription plans, including the most excellent WordPress firewall security. A firewall controls the brute force and malicious assaults from gaining access to WordPress.
Sucuri website firewall blocks malicious traffic before it reaches your server. They also use their CDN servers to provide the inert fabric.
Aside from Security, their DNS level firewall with CDN provides a significant performance improvement and accelerates your website.
Most significantly, they promise to clean up your WordPress site for free if it becomes infected with malware. You may even bring a malware-infected website to them, and they will clean it up for you.
Visit - Sucuri Website
Wordfence Security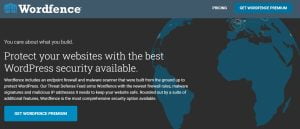 Wordfence Security is another well-known best WordPress security plugin. This gem combines simplicity with comprehensive security solutions, such as robust login security features and security incident recovery tools.
One of the most significant benefits of Wordfence is the ability to acquire information into general traffic trends and attack attempts.
Wordfence is one of the more outstanding free solutions, including everything from firewall blocks to brute force security. On the other hand, a premium edition is available for approximately $99 per year for one site.
Also, read Best WordPress Malware Removal Plugins | Protect Your sites
The plugin creators also help developers save money by offering significant discounts when you sign up for numerous site keys. For example, if you purchase 15 or more licenses, you will receive a 25% discount or $74.25 per license.
Overall, Wordfence is worth considering if you create several websites and protect them all.
Features That Make WordFence Security a Great Choice:
The free version is suitable for small websites.
Developers may save a lot of money by signing up for several site keys.
It has a comprehensive firewall suite that includes tools for country blocking, manual blocking, brute force protection, real-time threat protection, and a web application firewall.
The plugin's scan feature fights malware, real-time threats, and spam. It searches all of your files for malware, not only WordPress files.
The plugin keeps track of real traffic by looking at Google crawl activity, logins and logouts, human visitors, and bots.
You receive access to specific tool capabilities, such as signing in using your mobile phone and password auditing.
The comment spam filter eliminates the need to install a separate plugin.
Visit - Wordfence Security Website
Jetpack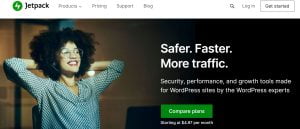 Jetpack is another popular all-in-one solution on our best WordPress security plugin list. This well-known plugin, which has over 5 million-plus active downloads, allows you to quickly check your website for security flaws.
Features:
Backups in real-time Every modification you make to your website should be saved.
With a single click, you may quickly restore your website.
The activity log shows you which action (or person) broke your website.
Decentralized malware scanning protects your website against security threats.
Spam prevention is provided by automatically blocking spam in blog post comments.
When it detects that your WordPress website is offline, it sends you an email.
Protects your website from brute force login assaults and malicious software.
Keeps your WordPress plugins up to date automatically and informs you if you're using the most recent version of WordPress.
Cost:
Jetpack's free edition has basic WordPress security features. The Security Daily package begins at $19.95 per month when invoiced annually.
Visit - Jetpack Website
WPScan
WPScan is another excellent WordPress website security solution. This user-friendly tool has been around since 2012 and can keep the backend of your website safe and secure.
Also, read Best Web Hosting Sites – Best Web Hosting Services
It works by collecting many known dangers and reporting the most necessary ones to you, allowing you to prevent avoided security problems.
Features:
An open-source application with one-of-a-kind features that can be used to scan remote WordPress installations for security flaws.
Their vulnerability database is updated daily by community members and WordPress security experts.
Automated scans for harmful code are performed daily.
Notification through email
Audits a database of known issues with items that will affect you, including WordPress plugins, WordPress core, and WordPress themes.
Cost:
A free version of the plugin available is suitable for most websites. If you have a large website and use a lot of plugins, the paid edition of WPScan is better for you, and it starts at roughly $2.31 per month.
Visit - WPScan Website
BulletProof Security
The BulletProof Security plugin is available in both free and paid editions. The premium plan costs $69.95 and is continuously maintained, updated, and likely offers more functionality than most other security plugins on the market.
BulletProof Security also comes with a 30-day money-back guarantee, as well as quarantines, email alerts, anti-spam, auto-restore, and other features.
I'd recommend you start with the free plugin, which includes the following tools:
Security and monitoring of logins
Backup and restoration of databases.
Malware Scanner MScan
Tools for anti-spam and anti-hacking.
A record of security incidents.
Plugin folders that are hidden.
Mode of maintenance.
A complete installation wizard.
It's not the most user-friendly WordPress security plugin. Still, it's enough for advanced developers who want to use unique settings and features such as the anti-exploit protection and the online Base64 decoder.
It also offers an auto-fix function in the setup process to make things a bit simpler.
Features That Make BulletProof Security a Great Choice:
It includes some of the most innovative advanced security technologies on the market, such as BPS Pro ARQ Intrusion Detection and Prevention System (ARQ IDPS) encryption solutions, as well as scheduled crons, cURL scans, folder locking, and more.
The free edition has enough capabilities for a typical website.
The free version includes backups of the database.
Individual plugin directories can be hidden.
The maintenance mode capability is not seen in most other security plugins.
Visit - BulletProof Security Website
iThemes Security Pro
Using WordPress, you might recognize the team behind iThemes Security Pro because they also produced the popular BackupBuddy plugin and other amazing themes and plugins. Their technologies provide an easy-to-use interface for brute force security protection and other features.
Features:
Two-factor authentication adds an additional degree of protection.
Strong password protection
404 detection as well as plugin checks
WordPress backups that are scheduled
Locks off any questionable IPs that check for vulnerabilities on your site, preventing them from gaining access.
Sends email notifications to advise you of any recent harmful file changes on your site.
The ability to restrict login attempts
WordPress plugins and themes are safeguarded.
Although there is no website firewall or malware scan, Sucuri's Sitecheck malware scanner is used.
Cost:
The annual cost of iThemes Security Pro is $80.
Visit - iThemes Security Pro
Do you have any questions on the Best WordPress Security Plugin? Let's mention them in the comments section below! And if you like this article, then please follow us on Instagram and Twitter for more updates from our blog.