Dropshipping with a WordPress site with WooCommerce is as easy as becoming an online retailer.
A reliable content management system with an excellent WooCommerce dropshipping plugin and a collaboration with a reliable provider can be set up in an hour with minimal cost.
No surprise, many people are setting up their businesses using this combination!
If you're looking to get into the action, This guide to the Best WooCommerce Plugins For Dropshipping will cover all you need to know about Dropshipping.
What is Dropshipping?
Dropshipping is an online business in which an eCommerce store cannot keep items in stock. Instead, it completes the order by purchasing items from sellers and sending them directly to customers.
Because of the low cost, dropshipping is a very popular method to make money online.
There are many sites where you can find items from third-party vendors willing to deliver them directly to your customers.
It is possible to have products delivered with your eCommerce branding and packaging. This will allow you to create your brand's recognition and grow your eCommerce business in the future.
How to Start a Dropshipping Business?
Starting your own dropshipping eCommerce business is simple and only requires a small investment.
You'll require the following things to start a dropshipping business.
WordPress Web Hosting (Hosting this is where your website all files will be stored)
A domain name (This will be the address of your eCommerce store, e.g., probloggingidea.com)
WooCommerce dropshipping plugin (the platform that allows you to create an online store)
WordPress web hosting costs $3.99 per month, and the domain name costs around $15 annually.
We recommend Hostinger web hosting for website hosting and domain name registration. It's one of the largest Hostinger providers in the world.
For ProBloggingIdea users, Hostinger offers an extra discount, uses (BLOGEXPERT) Coupon code, and gets an extra discount on web hosting. Also, you will get a Free Domain name if you purchase a minimum one-year plan.
After signing up for web hosting, You need to visit the hosting provider's dashboard and Install WordPress. To know how to create a blog or website, Click Here. This guide will help you quickly and easily create your eCommerce website.
List Of The Best WooCommerce Plugins For Dropshipping:
Many WordPress dropshipping plugins are available, and each has a different function. You must choose the one that is compatible with your particular eCommerce store.
#1 – AliDropship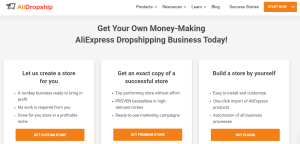 AliDropship is a WordPress dropshipping plugin that works with AliExpress, the Chinese retailer, AliExpress. It's easy to display the thousands of products available on Alibaba's AliExpress platform on your eCommerce website.
The plugin is installed quickly and allows you to display the available items on AliExpress You can modify prices, set profit variables, and control how everything functions and appears on your website.
It's a universal WordPress dropshipping plugin with the power to compete with one of the largest retailers behind it.
Features of AliDropship:
There is a wide selection of products available to select from
One-click order fulfillment after you've made a purchase
Many options for customization at the back and front end
Single purchase includes lifetime updates
Easy to set up and use
The AliDropship plugin costs $89 for a one-time fee.
#2 – WooDropship
WooDropship is another WooCommerce dropshipping plugin that is compatible with AliExpress. It functions similarly to AliDropship but has an excellent Google Chrome extension that allows you to add products to your store while browsing the AliExpress website.
This great addition allows you to add inventory items to your online store. The rest of the plugin functions similarly to AliDropship. Look for products on AliExpress Add them with the plugin, then set the price or profit margin and change the look and feel of your front end.
WooDropship allows you to use AliExpress images, edit them, modify product descriptions, and manage how these products are displayed on your website.
Features of WooDropship:
Complete control over the items and how they are displayed
Available chrome extension that makes it easy to add products
One-click order fulfillment
The built-in image editor is integrated as well as a plugin customizing
Simple navigation and tools
The WooDropship plugin costs $97 for a one-time fee.
#3 – WP Amazon Shop
WP Amazon Shop is an Amazon affiliate WooCommerce dropshipping plugin. The plugin allows you to sell any of the millions of items offered on the platform and quickly integrate them into your online store. It's an easy process that isn't difficult to master.
The plugin is easy to use. Set up this plugin, then create your Amazon affiliate account.
The plugin will add your affiliate ID to each sale, so you'll get your portion and allow you to increase the profit margin so you can be sure it's worth the effort.
The WordPress Dropshipping plugin is easy to use, which is excellent because the documentation is not good.
Features of WP Amazon Shop:
Easy to set up and use
Make use of Amazon as well as the established affiliate network.
It is easy to add new products and modify prices
Controls products with granularity
Included Ajax features that add attraction, like "load more" options
WP Amazon Shop costs $59 for a single site. $99 for up to five sites or $139 for up to 10 websites.
#4 – Spocket
Spocket is a dropshipping WooCommerce plugin that uses US and EU dropshippers. It is possible to sell worldwide. However, all items will be shipped from the US and the EU.
Spocket is a straightforward plugin to use. Install it, start a free trial, include dropshippers and other products inside the plugin, choose your profit margin, and start selling.
It uses a pre-selected list of dropshippers to fulfill orders and allows you to include products easily in the plugin.
Spocket is an excellent wholesale option; even though it's not as strong as the other WooCommerce dropship plugins, you can earn more money from it.
Features of Spocket:
Reasonable wholesale rates that can add profit
One-click order fulfillment
Filters and search options that are powerful for adding items
A massive selection of items to pick from
It is easy to install and use
Spocket prices start at $12 to $299 monthly, based on how big the shop is.
#5 – Dropified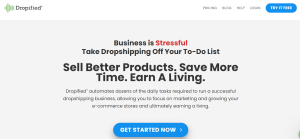 Dropified is compatible with WooCommerce, providing a reliable dropshipping plugin that uses AliExpress and other companies to fulfill orders.
It also uses the Dropified Chrome extension, allowing users to easily integrate AliExpress items into your website in just one click.
Dropified can also work with eBay, Amazon, Costco, and over a hundred more dropshippers for a complete approach. You can import products inside the extension and then list them in a short time.
Additionally, a potent tool for research lets you thoroughly study products to ensure that you sell the most well-known or profitable. The fulfillment of orders is automated, and the plugin includes an image editor that allows you to modify images that are often questioned to meet your specific requirements.
Features of Dropified:
Add products quickly using various methods
An excellent research tool that provides more excellent insight into the products
Review product reviews into the importer to help convert
It supports a variety of dropshippers
Automated fulfillment process
Dropified costs range from $47 to $197 per month based on how big the shop is.
#6 – Knawat
Knawat provides dropshipping services, but with an extra. Knawat will collect orders from multiple suppliers for you and fulfill them on your behalf.
Although it's not a big deal, if you sell using multiple dropshippers, Knawat will handle all of your orders in one shipment. This makes you seem more professional.
Knawat is easy to install and allows you to easily add products, modify descriptions and images, and increase your profit margin. Knawat syncs with product availability and supports multiple currencies and languages.
Knawat is a dropshipper who specializes in fashion and accessories.
Features Of Knawat:
Simple import tool for product
Dropshipping is simple. Fulfillment is also easy.
EU and Turkey Fulfillment
Automated order fulfillment
Multiple dropshippers can handle multiple packages
Knawat can be purchased for as low as $129 per month, depending on the size of your store.
#7 – Cartflows
Cartflows is the best WooCommerce Dropshipper plugin. It allows you to add a sales funnel for increased conversion. Although it is more complicated than the others, it is performed much more.
The People that bought X also purchased Y messages you see when selecting a product. Cartflows allow you to add this funneling into your online store.
Cartflows are a powerful addition to WooCommerce. It makes WooCommerce checkout look more appealing, allows you to upsell, offers additional opportunities before, during, and after checkout, and generally adds essential features to your store.
You can make even the standard WooCommerce checkout page to attractive checkout page!
Cartflows Features:
WooCommerce is a great companion
To increase profit, add powerful funneling features in existing stores
Each step has a template
Works seamlessly with WordPress or WooCommerce
Special offers and other incentives are possible
Cartflows cost $299 per annum.
Final Word
Setting up an online store is possible without spending much money. WordPress is easy to set up an online store.
Install one of these WooCommerce dropshipping plugins to find a dropshipper. It's easy, affordable, and easily accessible for anyone.
Some plugins can even manage dropshippers for your benefit.
We hope you have found the answers to your questions about the Best WooCommerce Plugins For Dropshipping? You may also want to check out our guide on The Best CRM Software For Small Businesses.