Best Video Editing Tool For Beginners: A successful content marketing plan must include videos. Take a look at the world's most well-known brands. You'll see that their videos are where they get the most customers. There is one drawback to video content marketing, though. Video editing is time-consuming.
Making a video is simple, and editing the video, on the other hand, necessitates an entirely new set of abilities. The worst aspect is that most video editing software comes with a steep learning curve.
The user interfaces of newer software editing tools are usually more straightforward, and they leverage superior technology to make video editing easier. This simple video editing software trend has made it easier for any company to implement a video marketing strategy.
Before you can use the big video editing program to edit your videos, you must first learn the principles on a smaller scale. Several video editing software available has a more easy learning curve and is suitable for beginners and new professionals. 
List Of The Best Video Editing Tool For Beginners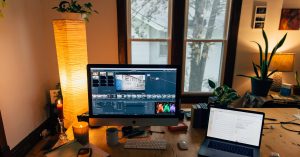 1. VideoProc
VideoProc by Digiarty is an excellent choice for beginners. Although it is a paid-only software, the cost is reasonable compared to several competitors. A full-featured 7-day free trial is also available to test before you buy. This isn't an excellent editor that adds worth; the editing software also lets you convert, record, and download videos.
Although VideoProc has several tasks in one package, it does not skimp on editing tools. You can chop, crop, combine, rotate, and apply subtitles and effects to several files. The use of full GPU hardware acceleration allows for a fast and seamless editing experience.
VideoProc may be used to process videos captured with an iPhone, Android, GoPro, DJI, or any 4K DSLR or mirrorless camera. It can handle more than 70 different file types and even 8K films (most software supports up to 4K). Special effects like Deshake and Denoise are beneficial for GoPro video. You may effortlessly share your final product on platforms like YouTube and Facebook using predefined export choices.
VideoProc is a simple program to get started with, but it offers many advanced features. Although the website's help area has in-depth lessons, you may always contact email support if you want more assistance.
Price: Paid plans for one PC start at $29.95 for a year and include a 30-day money-back guarantee.
Pros:
Video editing software that is simple to use.

Excellent value for money.

Downloader, recorder, and converter are all included.

Sharing is simple.
Cons:
Some advantages features of competitors are missing.
Also, read – Best YouTube Video Editor Apps For Android Operation System
2. Filmora
One of the most underrated video editing software is Filmora, and it's still one of the Best Video Editing Tool For Beginners. Filmora features over a thousand movie templates and an easy-to-use visual editor, and Filmora supports simple animations and motion tracking.
Filmora is so wonderful that even pros recommend it. Filmora also takes UI inspirations from professional video editing tools and software, resulting in a substantially shorter learning curve when you're ready to transition.
Who should make use of Filmora?
Filmora is ideal for beginners and companies to create videos for YouTube, Twitter, Instagram, and other social media platforms. Vlogs, playthroughs, short-form films, and essential business videos are all possible with it. Filmora is particularly well suited to creative enterprises and individuals. Its filters are beautiful, and the final edits are flawless. Filmora has some nice transitions and animations.
Pros:
Affordable

The user interface is stunning.

Versatile

It's future-proof because it supports 4K.
Cons:
Some critical elements that professionals require are missing.
3. Apple iMovie
Let's not forget about Apple. You receive iMovie for free when you buy a Mac, and you must pay for the Mac! iMovie is an excellent tool for beginners.
IMovie is one of the Best Video Editing Tool For Beginners available in a regular Apple fashion. Furthermore, it works nicely with Apple's software and hardware. For example, suppose you wish to include music in your video and connect to iTunes, and you can even Airdrop films into iMovie from your iPhone.
Who can benefit from iMovie?
If you're already a member of the Apple ecosystem, iMovie is the tool of choice. Although it lacks some functions, it has the Apple beauty that Apple customers enjoy. Later, Apple customers can also upgrade to Final Cut Pro, Apple's premium video editing software.
This shift will be a lot easier thanks to Apple's involvement. Final Cut Pro is a powerful professional video editing program that can edit everything from YouTube videos to full-length films.
Pros:
Is the "Apple" factor present?

The filters are excellent.

Support for the Green Screen is straightforward.

Apple hardware and software integration
Cons:
Only on Mac does it function.

Variability is limited.

This isn't the best option for a business.
4. InVideo Online Video Editor
InVideo is one of the best video editor tool which is popular around the globe. It is a fully functional tool that makes your videos, short videos, and collages more attractive watermark-free. 
It consists of a huge library of different kinds of templates and designs. The UX of the tool is very convenient to use very user-friendly.
It is unique among the tools on our list since it is entirely web-based. This is useful if you want to access and edit your projects without utilizing a desktop client or an app. And, while the monthly fee is considerable, you won't have to worry about acquiring several licenses for various PCs, as you would with some other applications.
The user interface is intuitive and straightforward, allowing you to quickly and effortlessly make professional-looking movies. Other video editing tools do not have the same toolset as this one. 
The emphasis here is on templates, of which there are over 3,000 to choose from.
There are also over a million photographs and videos from Storyblocks and Shutterstock. You may, of course, post your images and videos. Up to 60 HD video exports per month are allowed on free and basic premium programs.
Voiceovers, music, text, unique branding, stickers, effects, shapes, and enhancements may be added. The text-to-video tool, for example, is a notable feature that allows you to swiftly turn text (for example, a blog article) into a polished video.
It's simple to collaborate on projects and share files across several platforms with InVideo. 
However, it lacks several editing tools included in other programs, such as a built-in recorder and transitions, deshake, and denoise.
If you run into problems, there's a comprehensive list of FAQ topics to read through, but skilled assistance is accessible through live chat 24 hours a day, seven days a week if you can't find what you're looking for.
Price: The free version includes all editing tools, but you must pay $30 per month or $360 per year to remove the watermark.
Pros:
Make and edit videos from any location.

Thousands of templates are available to choose from.

Over a million stock movies and photos are available to you.

The free version is really useful.
Cons:
Exports are limited to a certain quantity per month.
5. Adobe Premiere Elements
Adobe Premiere Elements is a reduced-features version of Adobe Premiere Pro. Premiere Pro is a video editing software widely used in the business, and it is more complicated to utilize. Premiere Elements comes very handily here.
Premiere Elements is a beginner-friendly alternative to Premiere Pro that streamlines the experience and removes critical capabilities. The nice thing about Premiere Elements is that it isn't part of the Creative Cloud, so that you can buy it independently.
Who may benefit from Premiere Elements?
Small companies and students new to video editing software will love Premiere Elements. The fact is that once Premiere Pro becomes financially viable, most companies will make a move.
Although Adobe's creative cloud is pricey, it is one of the most excellent software packages available. Learning and using Premiere Elements will give you a solid sense of how its bigger brother Premiere Pro operates until you can buy it.
Also, read – Best Web Hosting Sites
Pros:
It's less expensive than Adobe's Creative Cloud service.

Much more user-friendly than Premiere Pro.

For a product designed for beginners, the feature set is fantastic.
Cons:
Slow UI might be a problem on occasion.
6. KineMaster
KineMaster is a freemium video editing software with Android and iOS mobile applications. It has a large fanbase on both platforms, and this program is simple and has more features than its primary competitor.
KineMaster comes with basic editing, layering media, text, effects, overlays, handwriting, audio and video fading. Directly from the app, you may record video and audio and search for soundtracks, effects, transitions, overlays, typefaces, and images in the built-in KineMaster Asset Store. 
It's worth noting that many of these goods are only available to Premium subscribers. To remove the watermark from the final videos, you'll need to upgrade to a premium subscription.
The KineMaster support group, with its enormous following, should be able to assist you with any concerns. However, several Android users have recently reported that the app is buggy. The primary source of worry appears to be video exporting, so you might want to double-check that this works for you before embarking on a time-consuming project. Sharing to other platforms is straightforward as long as you have luck with exporting.
Price: While the basic free version may be sufficient for some users, you may pay monthly ($3.49 per month) or yearly ($27.99 per year) for a premium subscription.
Pros:
Low cost

A good assortment of features

Beginners will enjoy it.

A good community of support
Cons: 
This app is only accessible for mobile devices.
7. Movavi Video Editor
Movavi video editor comes in two flavours: Movavi Video Editor and Movavi Video Editor Plus. The Plus edition has a new interface and includes various new features, updates, and quicker processing.
Even novices will figure out how to utilize the program in no time. There are several lessons and user manuals accessible and help by webform if needed.
Crop, rotation, pan, zoom, trimming, deshake, transitions, filters, animated titles, intros, picture-in-picture, stickers, callouts, and effects are all available in both versions. A video recorder, a voice recorder, and a screen recorder are all included. There are 14 UI languages to pick from, including German and Japanese.
Slow-motion, reverse, animation, timeline markers, backdrop changes, and other special effects are all included in the Plus tool.
You may try the program for seven days for free, but videos will have a watermark on them. Unless you subscribe to the premium plan, you can only preserve half the audio duration when storing audio files. You can also get a full-featured video converter from Movavi for macOS and Windows, but you'll have to buy it individually.
The basic edition of Video Editor costs $39.95, while the Plus version costs $59.95. Both come with a single-PC lifetime license, and a 30-day money-back guarantee is included with all plans.
Pros: 
There are a lot of editing options.

a one-time payment

Simple to use

There are several language options available.
Cons: 
You'll have to buy the converter separately.
We hope this article helped you to find the Best Video Editing Tool For Beginners? You may also want to check out our guide on the Best YouTube Video Editor Apps For Android Operation System.
If you liked this article, then please follow us on Twitter and Instagram.