How to Remove Watermark from PDF Online: A PDF watermark might be distracting, and the best option is to remove it. Here are a few options to do this for free.
The PDF is a versatile document file type developed and popularized by Adobe Inc. Together with Microsoft Word, and they form two of the most widely used document formats.
You can accomplish a lot with PDFs if you have the correct tools. PDFs can be merged, converted, compressed, resized, trimmed, divided, rotated, and (un)locked, among other things. The best part is that you can do all of this for free.
Another helpful feature of PDFs is the ability to add or remove a watermark. This article will explain why people remove watermarks and how to remove watermark from PDF online.
How to Remove Watermark from PDF Online
If you're like most PDF users, you're definitely already aware of how to add a watermark to a PDF. But did you know that you can remove a watermark from a PDF file and that you can remove from online for free of cost?
Before we go into how to remove a watermark from a PDF, let's look at why peoples want to remove watermarks in the first place.
The content has been made public.

There is no longer a requirement for the watermark.

It is necessary to delete and replace the watermark.

The watermark is not placed correctly.
Let's now look at how to remove watermark from PDF online using the free methods.
1st Step – Soda PDF
Soda PDF is an online tool. With the help of the Soda PDF tool, you can easily remove any PDF file's watermarks. 
Here's how to use Soda PDF Online to remove watermarks from PDF online.
First, you need to visit the Soda PDF Online, click Open in the left toolbar, and upload the PDF file.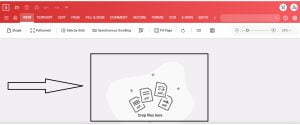 After uploading the PDF file, go to the toolbar at the top of the page and select Edit.

Locate and click on the watermark you wish to delete. This will select and activate that particular watermark area.

Use the Delete key on your keyboard to remove the watermark.

When you're finished, click the hamburger menu icon in the upper left corner and select Save.

Click the X button next to the filename at the top of the screen, then Yes when requested to save changes.
This tool is available in eight languages, including English, German, and French. Click on the gear button to see the other language chances. Soda PDF watermark remover is one of the best and simplest free online methods for removing watermarks from PDF files.
2nd Step – Microsoft Word
Microsoft Word is one of the most widely used word processing tools globally. It can also be used to remove watermarks from PDF by converting the PDF to Word, removing the watermark, and then exporting the document as PDF. This is compatible with practically all PDF editors.

If you already have Microsoft Word installed on your device, you may skip EasePDF and convert PDF to Word straight with Microsoft. Follow the procedures below to remove the watermark from a PDF file.
Right-click on the watermarked PDF and select "Open with" > "Microsoft Word."

A window will appear informing you that this operation will convert PDF to editable Word. The resultant Word document may not look precisely like the original PDF, particularly if the original file has a lot of images. After clicking "OK," Microsoft will convert your PDF to a Word document.

Microsoft will show your PDF in Word format. Watermarks may now be removed by selecting "Design" > "Watermark" > "Remove Watermark." If you are using Office 2010 or 2007, select "Page Layout" > "Watermark" > "Remove Watermark." In addition, all watermarks on this document will be removed.

Make a PDF of it. Select "Save As" from the main menu, then "PDF" as the save format.
3rd Step Google Docs
Google Docs is another well-known word processor made famous by none other than Google. Google Docs allows you to create, edit, and process documents. You can also apply a watermark to Google Docs and remove a watermark from PDFs.
Here's how to use Google Docs to remove watermarks from PDFs:
Sign in to your Google Drive account and select the Add New option.
Select the watermarked PDF file by clicking File Upload.

In the bottom right corner of your screen, you'll get a notification that says "…upload complete." Select the filename by clicking it.

A preview will be produced. At the top of the page, select Open With from the drop-down menu.

Select Google Docs.

If the watermark is not automatically removed, click on it, select it, and use the Delete key on your keyboard.

Click File, then Download, and finally PDF Document to save your watermark-free PDF to your PC. 
Also, read – Google Pixelbook 12in Honest Review (Price & Performance)
4th Step – PDF Zorro
PDF Zorro is yet another powerful PDF editor that can merge, split, crop, rotate, secure, unlock, and convert PDF files, among other things. Watermarks can be removed from PDF using the whiten, blacken, or eraser tools in PDF Zorro.
Here's how to use PDF Zorro's eraser tool to remove watermarks from PDFs.
Visit PDF Zorro, the official website scroll down, and select Edit PDF.

Click on Upload or drag & drop the file into the upload box to upload your PDF.
Under the file upload box, click the Start PDF Editor button.

Navigate to the left pane's toolbar and choose the page. This will activate it in the main window.

Locate the watermark, then select the Erase tool and drag the mouse over and across it until it is removed.
This process works best if the watermark isn't layered over the text; otherwise, the surrounding text may be erased.
Conclusion
Above are the top 4 methods to remove watermark from PDFs that we have researched and tested. To remove a watermark from PDF online for free, you may need to convert the PDF to Word using Microsoft Word and then remove the watermarks from Word. You can save the Word document as a PDF after removing the watermarks.
We hope this guide is helpful for you. If you have any suggestions or feedback, please mention them in the comment section below.